Denim is a good center fashion piece for every outing you might want to attend. Denim is a material that often comes in a wide range of colors like blue, black grey, etc. However, we'll be focusing on black denim outfit ideas to show off your class.
Being able to show off your body figure and class with your cloth is the best feeling for any fashion lover. With black denim, you can be the talk on every occasion. As a lady, you can never go wrong with a denim outfit.
When contemplating on a look for your event simply go for a chic black denim look.
Denim has become a trend in recent times and doesn't seem to be going into extinction anytime soon. Knowing various ways in which you can embrace this trend is However vital for fashionistas. One of the styles you can't help but add to your closet is denim for that elegant and stylish outcome.
Best Black Denim Outfit Ideas For Classy Women
We have gathered some intriguing fashion ideas for you to try out. This will be the next most fashionable look to look out for in recent years. Aside from owning much clothing, one must understand how they can be complied together to stand out.
The multipurpose nature of denim is always something to look out for. These styles will be the reason you'll be in the spotlight at all times. And makes every outing worth going to. However, below is some denim outfits we've put together for you to try out.
1. Black Mini Denim skirt and Crop top
Black is a radiant and bossy color for ladies. With a black denim and crop top, you have the attention of everyone at the event. This mini skirt gives a bit of a leg moment and a sexy look for your body. With the addition of a white crop top, the color comes out more beautifully. Accessories with gold jewelry to get the best result.
2. Denim Black Jeans, Tank Tops, And Leather Jackets
Jackets serve as a means of layering your outfit. The combination gives you that bossy vibe and helps command respect when you step into any place. An oversized jacket is the best addition to the style with a neutral colors tank top to match. For ladies desiring to be top-notch fashion icons, this is the most suitable attire.
3. Black Denim Short Overall Outfit
This is one of the most trending looks for a denim outfit. If you are leaning towards a simple and sophisticated appearance an overall is the combination of all elements. Simply combine with white or nude long-sleeved body hugging inner and you're good to go. It's s fun combination and is easy to come up with.
4. Stylish Denim Skinny Jeans With Silk Blouse
Silk is the new expensive look to go for. For a denim slay feel for a simple get-together or launch date go for this two combo. Skinny Jeans give that flattering look to your shape and likewise, the deep black color of the silk ensures a soothing outcome. It's comfortable and suitable for any occasion.
5. Denim Black Skirt And Shirt
The shirt is a good and safe style to recreate it gives a minimalist style and yet is modest. It's a cool look that works for college students. This is what every young lady needs to try out more. It is one of the best casual attire you can put together with a pair of sneakers or boots. Put more effort into making a cute hairdo to match the style.
6. Skinny Denim Jeans And White Long Sleeve Top
The use of long-sleeved tops is more profound than ever. It is one of the most had fashion pieces for any lady. White adds more classy and elegant to the entire outfit. It's a look that you can't get tired of. It changed how denim is perceived. And a cool color for growing fashion lovers to try out.
7. Skinny Black Overall With Turtle Neck
With a turtleneck inner, your denim outfit is ready to go. It suits anyone either slim or plus-size women. This is a very ideal way of putting together the best denim style. This is simple business casual wear for Fridays or cinemas. It's a reserved attire but often speaks for itself when worn out. For the right look pair it with a fedora hat.
8. Black Denim On Denim
You can never get tired of this combination. This is a boss lady style and not for a simple boring outing. A complete denim-on-denim look with a pair of heels is an outstanding option for any lady to wear out. The denim does the right justice to your body figure giving it a more pronounced look regardless of your age.
9. Denim Jeans With Graphic Tees
Matching these outfits together is not a technical thing to do. However, it gives a detailed explanation of your fashion style. Wearing Tees is a fancy and comfortable look for women. With the fitting jean denim, you're going from regular styles to something more sophisticated. Denim jean helps style and gives a well-detailed outcome to any denim attire.
10. Skinny Black Denim With Sweaters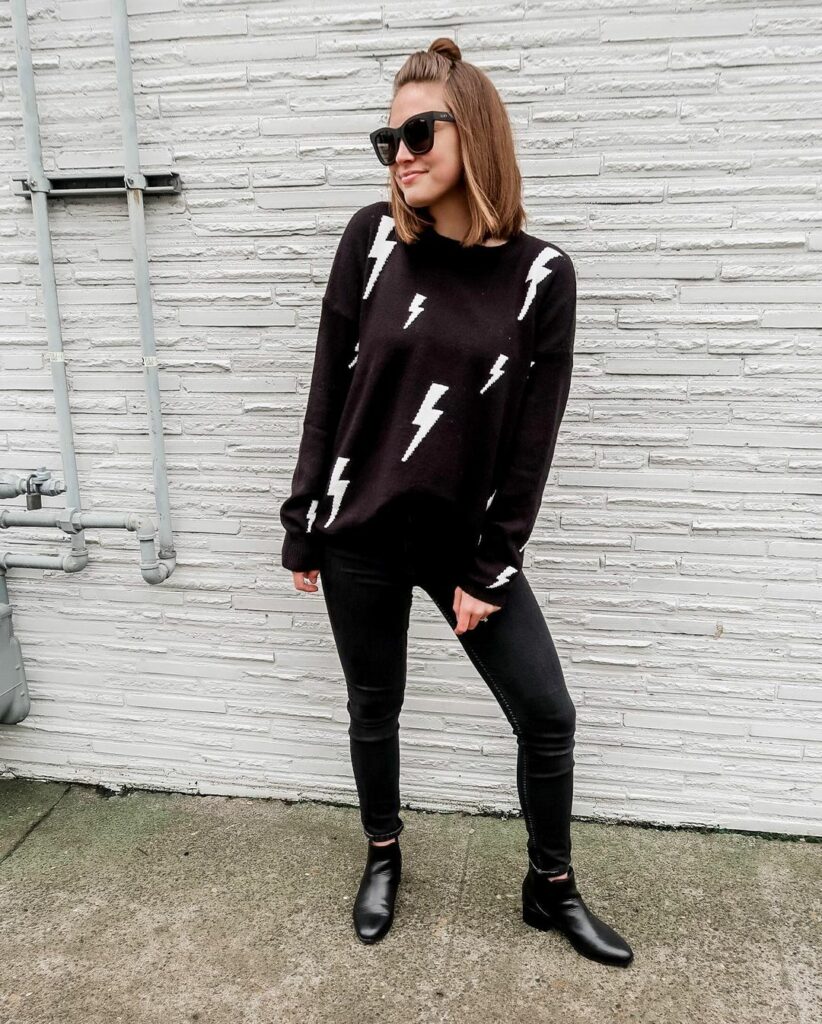 During winter, it is appropriate to go for cozy and warm clothes. Sweaters are the best option to pair with denim pants and they can be in any color like black, white, nude, and lots more. Both sweaters and denim go well together and help stand out more beautifully. These are very easy combos to come by.
11. Chic Denim With Blazers
Blazers are formal wear it is a cordial style for official meetings and occasions. With blazer denim, any color of the blazer can be used together. It could be a plain or checkered blazer to give a bit of extra color to the entire outfit. This look is however not complete without the use of bags, accessories, and makeup.
12. Black Denim Short With Bodysuit
This is a clean look for any lady. The bodysuit can either be white, black, nude, and lots more. A bodysuit can be sleeveless or sleeved and for young ladies, it is a great fashion comeback. With black denim shorts, you can achieve that casual look for any casual outing of choice. Pair with sunglass for some street style.
13. Monochrome Denim Outfit
Monochrome clothes are an amazing style combination for every lady. When trying to give an interesting style that is far from regular a monochrome look is the best option. With any choice of denim cloth, you can achieve your monochrome denim Outfit. It's an exotic style that is perfect for every person.
14. Black Oversized Denim Jacket With Slit Leggings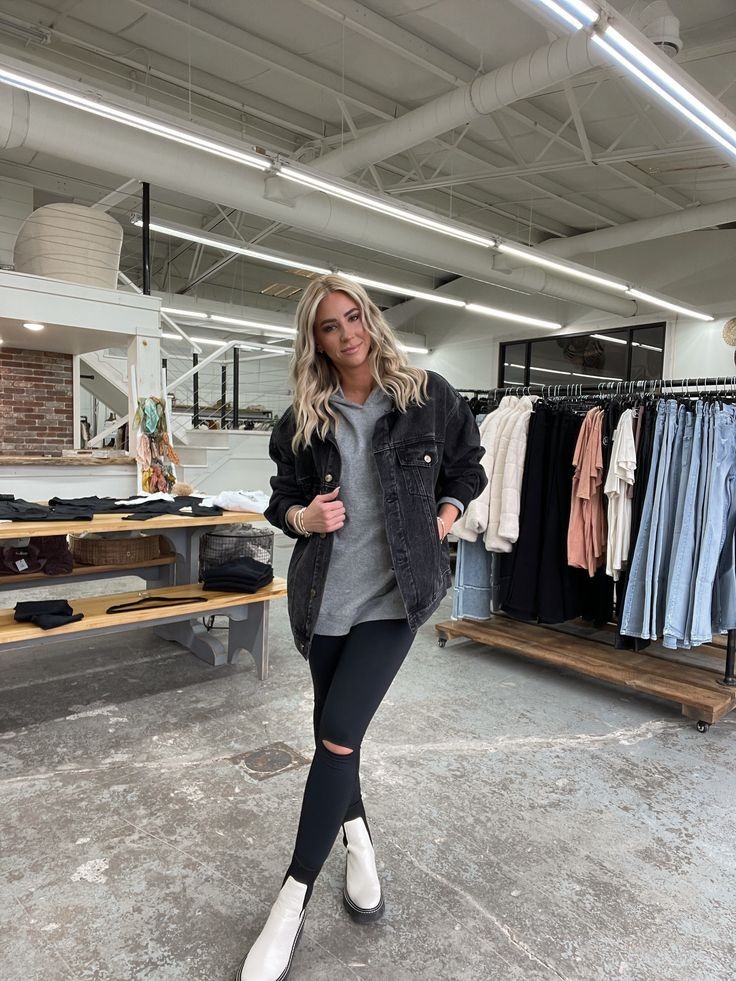 Oversized wear is the new trend you can incorporate into your everyday fashion Lifestyle. The most important thing to note when dressing up is comfortable and this style gives it all. You only require an inner which can be a tank top, crop top, plain tee etc. Always go for very comfortable leggings that pair together with your jacket opt for fancy leggings with the slit.
15. Denim Bum Shorts With Blouse Style
For ladies who like to show off their beautiful legs from time to time opt for denim bum shorts. Select the right blouse to tuck into your bum shorts for the best outcome. A very dramatic neckline of the blouse will give the best result. For this style consider a long sleeve blouse.
16. Black Denim Overall With Turtleneck
Wanting to spice up your overall style opt for a turtleneck. This is a classy and elegant way of wearing overalls with a ponytail and some vans you're a show stopper. With this look, you don't have to go all out with your makeup and hairstyle. This combination does a lot effortlessly. Overalls cannot go out of vogue hence, you should try to explore the look more often than ever.
17. Ripped black denim And Blue Denim Jackets
Wearing black denim with a jacket is a fancy style and it ensures heads are turning for your sake. The blue denim jacket complements black so well. There is no reason not to pair these two denim materials together with a knee-high boot or ankle boot for the best smart and sassy cowboy experience.
18. Black Denim Jeans With Coats
Coats are essential in winter and fall collections paired with black denim materials to help show off your fashionista side. A trench coat works perfectly on your body with the best classy vibe. This can be worn to a denim-themed party or just for a simple work outing. It is a modest look for ladies who love to feel covered up.
19. Black Denim Jeans With Crop Top
If you have been trying to figure out how to wear your crop tops it's best to go for denim jeans for the most unique outcome. This exciting outfit is best for any outing of choice and its simplicity is one of the reasons it's loved by many. At times, when dressing less is always more which is what makes this combination stand out.
20. Black Denim Short Dress
Gowns are a feminine way of rocking Your denim it perfect for either the winter summer or fall seasons. A short gown gives what it's needed for your body statue to come out perfectly. Every lady desire to be breathtaking when going out with a short denim dress you're going to achieve more. Giving a classy and expensive look at the same time.
21. Black Denim Long Dress Overalls
Long dress overalls aren't out of trend yet by enduring you're doing the right thing you can rock your long dress beautifully. At a crossroads on what to wear out, this is a good choice either for dinner parties or simple denim-themed parties. You can match it up with any choice of shoe either a heel or sneakers any of these go perfectly.
22. Baggy Denim Jeans With Sheer Top
Baggy jeans are some creative ideas made with jeans just to elevate the style from simple to stylish. This can be in various forms with designs, panting, rips, and many more. As ladies, you should never wear boring clothes ensure you change your denim jeans to a beautiful and colorful design for the best closet experience.
23. Ripped Denim Jeans With A Top
Ripped Jeans are the trendiest denim style for young ladies. It is not only comfortable but also gives confidence when going out. Any blouse can be combined with these like chiffon, cotton blouse, halter necks, etc. Denim can be dressed up or down depending on the outing intended to be worn and this is certainly the attire you can play with.
24. Denim Flare Jeans With Black Blouse Style
Having a wide variety of jeans is never too much. It ensures you never have a bad closet malfunction when trying to go out. Flare jeans are a fancy style of denim jeans and come off as elegant. Not all ladies can walk out in class in this style of denim but it's certainly something to give try out by all. With a denim jacket, you're good to go.
25. Light Washed Jeans With Denim Jacket
Mixing a light-washed color of jeans with a black denim jacket you'll have the right color mix for your outfit. It gets even fancier with white sneakers and a cute bag to pair. It is popular and goes well with any type of event as well. The look is gorgeous and should be worn by every lady. The shade of color makes it ideal for a perfect summer look.
Conclusion
Black never crack is often said by all but when incorporated into your dress you understand that saying. A black denim outfit ensures you command the right respect when you step into any place.
Hence, you should always show off your fashionable side by exploring various ways you can rock your denim. Ladies need to always upgrade their fashion style to always be in vogue.