A new year celebration party is not new to so many it's a get-together organized to bring people together to mark the beginning of a new year. Oftentimes, it is normal to have a new year party especially to bring people together to serve as a means of bonding and making merry in anticipation of a new beginning. However, we'll be discussing 35 stylish new year party outfits you must try.
A new year party varies depending on the host and also the event. Although, often times it is held in the house of the host. For parties, everyone gets dressed in their beautiful dress styles and is in the mood to have fun and dance as well. Usually, a new year party is done on the last day of the year into the first day of the following year.
When thinking of the right cloth to be worn to a new year party, go for something fancy and stylish. This coming new year, there are certain outfits that are a must-try. You need to be as fashionable and particular which your outfit choices as a woman. Depending if there's a dress code to follow anything will fit into a new year party.
A new year's party is a formal occasion, as it might be hosted by companies and organizations as well for employees to wine and dine. For such, go all out with your dress you need to be high-end and sophisticated as you want. This celebration is irrespective of age and gender.
New Year Party Ideas For Fashionable Ladies
A new year party can also be an informal occasion as a form of gathering between friends and family members, in this occasion, a dress code is not officially necessary but you can as well dress your best for this event.
This occasion is more or less as a fun fair activity between friends and family to welcome each other into the new year and merry happily. To ensure you're dressing uprightly, here are 35 stylish new year party outfits to try out.
1. velvet Dress
Velvet is in vogue now and you might want to also rock this piece for your new year celebration party. The velvet dress is a perfect mix of elegance and class. It can either be dressed in a casual or formal style. The very soft material makes it high-class and soothing to the skin as well.
2. Sequin Gown Style
Leaning towards, giving it your best look this is the best option to consider for yourself as a lady. For your office new year party look go for this cloth with very bright and bold shimmers on them. The new year and glittering sequin go together as you need that brightness to yourself.
3. slip dress
A slip dress is another perfect new year party wear. It is gaining that populace more than ever now. We all have to agree to the fact that slip dresses are very choice and good for any body type as well. you can consider throwing it on with a pair of sandal heels to have the most amazing look.
4. Jumpsuits
To ensure you look your best to a new year party, try to dress up your jumpsuit to blend in. many of us consider a jumpsuit as a plain dress but it is more eloquent than ever. It's suitable for both old and young women who do not want to relent in their fashion styles. accessories with your best jewelry to get that bossy woman appearance.
5. Short Tulle Ball Gown
Although, ball gowns are very dresses, for a fancy new year party you need the best dress that will fit in. It's usually not overly dramatic and since you're in charge of what fits you the most you're very safe. If you will be dancing all day, you might need a good pair of sneakers.
6. Floral Print Dress
You need to pull the attention of the audience when you step into the new year party event. the floral print will stand out in a gathering of many, especially with the right choice of colors that goes well with the skin. If you're attending a new year party this could be an outfit for you to rock.
7. Simple Black Dress
Black is a very bold colour and will be something that should be often explored. a simple black dress has the ability to pull the right attention to yourself when going to a new year's eve party. You want to make memories at any new year party with pictures taken hence, you should dress well.
8. Long Ball Gown
Ball gown really gives you that silhouette we love for a ball party. Although it is very dramatic you can carry it elegantly for a fancy new year party. If you want to appear bulky in your attire this is the most appropriate for that purpose. This new year dress will surely make you stand out.
9. Long Silk Dress
This is another new year style, let's go for a classy look for your new year party this is a perfect style. The silk is very suitable and will complement the skin ideally. If you're not the type that wears short clothes, this is the next option for you with a long silk dress you will blend in and understand the assignment of a new year look.
10. Cute White Dress
Showing off your figure is not a bad idea for women. It is very compelling, especially for ladies who have the body to show off. As a guest, you're expected to look dazzling at the event hence, consider this white outfit. White is a cool color and will gorgeously blend in. with the use of colors you have that fashion icon look.
11. Two Piece Short Skirt And Blouse
Two pieces are easy to come across especially as they're the reigning style in vogue. They are very comfortable and easy to wear around as well. It is cool to wear as a new year party outfit. If it's an evening party go with a low-heel show for comfort and ease of moving around.
12. Off-Shoulder Short Fitted Gown
Trying to show off some collarbone action with your look you will enjoy wearing an off-shoulder dress. This is very comfortable and will need that simple necklace and stud earrings to go with it. Not all look requires you to be extra simple is always golden with an off-shoulder.
13. Maxi Dress
A maxi dress can be dressed up with the use of a tummy belt to hold the waist and achieve that fitted look. Women of all ages can feel comfortable with a simple maxi dress moment. It is a very elegant and sophisticated attire and should be put into consideration by every woman.
14. Tube Long Dress
Tube dress is a beautiful and pretty party dress. This dress has all the right details that a dress needs to have to look appropriate. For a cold day, you might want to pair a jacket or coat with this style. With the long dress, a platform heel with gives the most desirable aesthetics that complement this design.
15. Cute Chiffon Dress Style
Time to explore something more different, the soft nature is all part of the glam look you're looking for in a dress. A good number of women do not fancy chiffon as they should and this concept should be changed. This dress style does not take much time to be styled and should be added to your party collection.
16. Elegant Playsuit Outfit
This is a romper short that can either be in form of a one-piece or a two-piece combination of a shirt and shorts. This outfit is conveniently worn for evening parties like this without too doing too much. This outfit is best worn for an activity new year event. It's the perfect comfy outfit, it can be in either a long or short-sleeved shirt or rather as a sleeveless top playsuit.
17. Off Shoulder Jumpsuit
The jumpsuit is a long length of trousers and shirt or top. Just like a playsuit, it can also be in form of a two-piece or one-piece outfit. This jumpsuit can be in a different style, but the one we will discuss here is the off-shoulder style jumpsuit. This can be stylishly worn to the new year event with lovely heels and a bag to with. Also one of the conveniently slayed outfits.
18. Full-Length Wrap Dress
This style is uniquely styled by our gorgeous slay queens. it is a simple style that requires little to no stress when getting dressed. This wrap dress can be made to perfection when styled with the perfect set of accessories. A full-length wrap dress has a slit around it to give it spice when walking gorgeously to your new year event. this outfit can be worn as a formal or informal to any event.
19. A Corset Long Dress
A corset dress is a support garment dress that is stylishly worn to make the body and shape look good and sexy. The corset holds the breast firm and makes the waist look thinner. This outfit can be worn as a formal outfit. This gives you a classy look at how snatched you would appear. This style should be easier to wear and rock comfortably with the perfect accessory style.
20. Crop Top With High Waist Jeans
This is another new year party style to consider, it is a comfortable outfit for your new year events. It also serves as a chic and trendy you don't want to miss out on. It is also an easy-to-wear outfit that with the right combination would appear good-looking. This outfit does not require too many excesses when getting dressed. This is not a formal outfit but an informal outfit and can be styled to perfection. For example, you put on a colorful crop top and high-waisted jeans, and nice sneakers to match.
21. A Graphic T-shirt With Jeans
A graphic t-shirt makes a statement about your mood or a colourful graphic design. Wearing your graphic tee with jeans can be styled in various ways and styles. For example, you make your graphic tee in a cropped form with fitted or straight-leg jeans and ankle boots. this is the simplest and easiest form of outfit for a new year party. It's super comfy and cute to wear.
22. A Mini Colored Dress With Boots
This can be a short dress that is made and styled in different colours, based on the length of the dress it is advisable to wear high boots to make it more fashionable than expected. Wearing this outfit for the new year party can be for night parties or dinner gatherings with family and friends. To make a perfect statement with your outfit, wear a bold statement earring and necklace to give it the perfect look for your event.
23. A Corset Top With Fitted Jeans
The outfit is quite simple and can be styled elegantly with the right accessories. Sometimes the new year event tends to take place during the cold season, so to prevent catching a cold you should get a winter jacket to cover up your outfit. The corset top holds the body firm and gives it a nice body shape. with the right footwear as well, you can't go wrong with the outfit for your new year party.
24. A Black Sequence Gown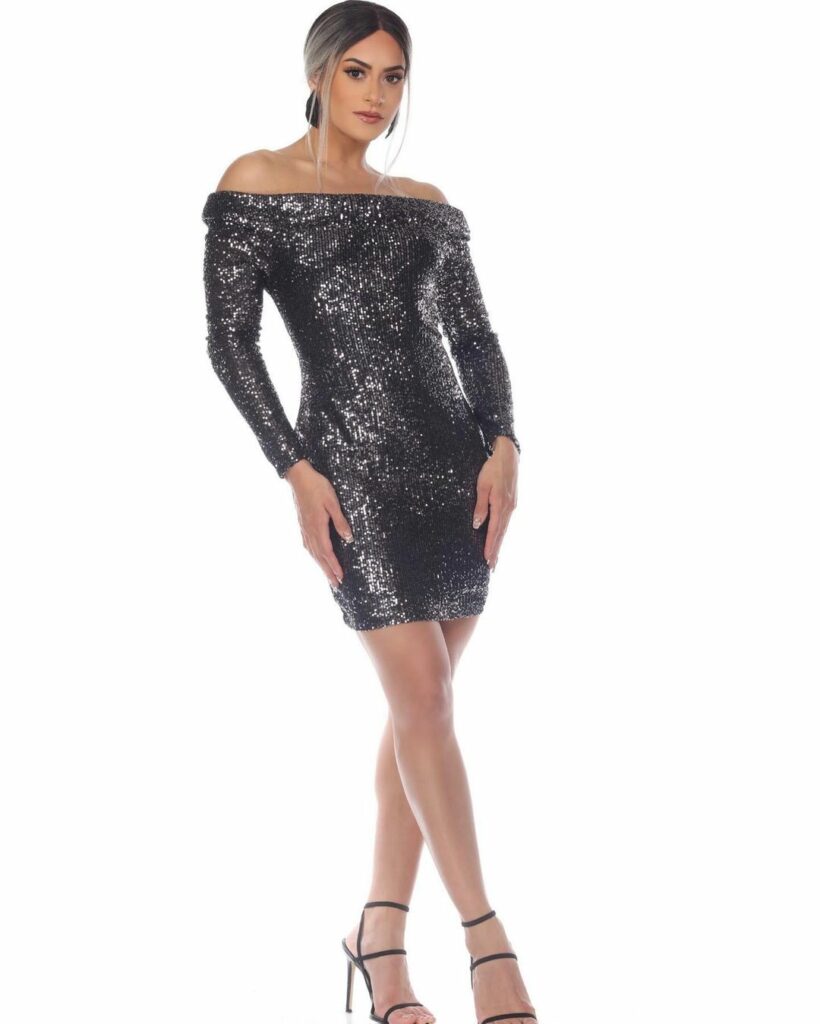 This is a very classy and sexy outfit. this is gown is covered in sequin and made with shining sparkling materials. It can be made in a variety of colors asides from black and can be made in form of either a long or short gown. This is a perfect form of outfit for a formal new year event. also, ensure to style this outfit with good-looking accessories and footwear.
25. Wide-Legged Trousers And Top
This can also be in form of palazzo trousers and a nice-looking top. this is a simple outfit for women who don't like tight outfits. This is a free outfit and super comfy best worn by moms and pregnant women. These pants are sometimes fitted around the tights and wide-legged around the knee to the ankle. The top can be in form of a cropped top or a big-sized top.
26. Mini Leather Skirt And Top
Leather is a great way to start your new year party look. The Leather material is made of high-quality stock and will suit perfectly a new year party. Pair this with any accessory of your choice to get that unique feel to your cloth. As a woman, this is certainly a look to not bye pass.
27. Elegant Sheer Dress
Sheer's wears are also an underrated outfit for new year's parties. regardless of how elaborate the party is so long if you feel comfortable rocking a sheer material you can certainly opt for it. This material can be either plain or patterned it gives that body-hugging figure we can't resist in a dress.
28. Two-piece Blazer Set
Two-piece sets are the easiest clothes to style. They came easy you only need to be concerned with accessories and choice of cloth to mix with this set. Go for wide-leg pant as it gives a more classy look when dressed up. Any bold color is perfect to go for a new year party. This style is very common in vogue now and shouldn't be shoved up as a party look.
29. Cold Shoulder Dress Style
Sleeves are major elements in designing a cloth. A cold shoulder is similar to an Off-Shoulder but it gives a different aesthetics when worn. The open shoulder is a great blend into the evening party. A very subtle look like this is a great choice for conservative ladies who do not want to do too much with their looks.
30. Silk Flare Gown
Flare how's are not yet outdated. Have you tried wearing a hot pink flare gown? You'll remain the center of attention at any party. This is a simple yet sophisticated look that speaks its class for itself. It's a style that has been around for decades now and only constantly keeps getting improved on. Rock your silk dress with confidence at this new year party with this gorgeous style.
31. Dramatic Off Shoulder Dress
If you love drama you don't want to miss out on this beauty. Drama needs to be slightly involved with your style now and then. Do not wear boring wear again consider going for a more detailed look from head to toe with this high-end bell cap sleeve style of dress.
32. Red One Shoulder Slit Dress
Modern women enjoy showing off tights with their long and appealing legs. A red dress is very sexy and flattering to the eye. A bright dress like this will fit into any new year party you're going for. Go for any length of slit most suitable for you with this dress style.
33. Cute Fitted Corset Short Gown
The fitted dress cannot be overstated, with the short dress having a sexy feature to it. Fitted dresses are not for every girl but if you're a fan of it you sure surely try this out. The corset gives the perfect body shape every girl dreams of and is one of the go-to styles for many women.
34. Beaded Lace Gown
Pay attention to every aspect of dressing, you can add as many beadings as possible to give your dress a turnaround. A beaded dress is very gorgeous and is a style that requires you to go all out with make-up and the hairstyle that is being worn.
35. Pleated Skirt And Top
The adorable pleats are sure to turn heads when you walk in the door at a new year party. Kick things off the notch with a sophisticated bouse to pair and add a strappy heel or simple mule heel to give the complete look.
Conclusion
Regardless of the type of event, you're going to as ladies, you're expecting to turn up looking you're very best. New year parties are events that are highly expected amongst families.
To some people, it is a yearly tradition and you need to turn up looking your best. Stuck up with what to wear for new years party, here are some cute selections to consider above.