How do you coordinate jewelry with a black dress? Black dresses are known to be the "IT" of fashion which means they are a vital all-occasion outfit every lady must have. Knowing how to coordinate it with jewelry is an important skill, it can play a role in how your entire look turns how it is. Knowing what jewelry perfectly goes with which outfit is key to pulling together the best look.
We do have to agree that a black dress is timeless, chic, and integral to a woman's wardrobe. Over the years, pieces of jewelry are quickly becoming the ideal way to enhance the personality in your outfit while you can still go without any jewelry for a casual look.
The little black dress is undoubtedly the 20th century's greatest fashion phenomenon, it basically looks great in any size and age. It embodies cosmopolitan glamour paired with elegance.
It doesn't matter if you are new to the fashion world of black dresses or probably have it in all designs in your wardrobe, knowing what jewelry goes best with it still matters.
Factors That Determine Jewelry Appropriate For A Black Dress
In general, anything goes with a black dress however if you are strictly looking for what is appropriate based on the occasion, then some factors will have to be considered.
First, note that with a black dress, you do not want to go for too much jewelry that might make the entire outfit look clumsy. This is also why the factors below have to be considered when choosing jewelry.
Types of the occasion: Keep it very simple for casual occasions, for more formal occasions, you can add sparkle.
Colour: Find colors that suit the occasion, everything works with black, but some occasions might require you to keep it less bright or too bright.
The neckline of your dress.
The comfort of the dress.
The focus of your overall outfit.
Know when to stop.
Jewelry That Goes Best With A Black Dress
A black dress is the most versatile outfit and while it can be tempting to ignore all the rules and go with what you find comfortable, it can quickly diminish the beauty of the dress.
When a black dress is paired with the best jewelry, it gives a sophisticated glamorous look. So, whether you have a conservative style or simply want to look good, here is a list of jewelry that goes best with a black dress.
1. Bohemian Dangling Earrings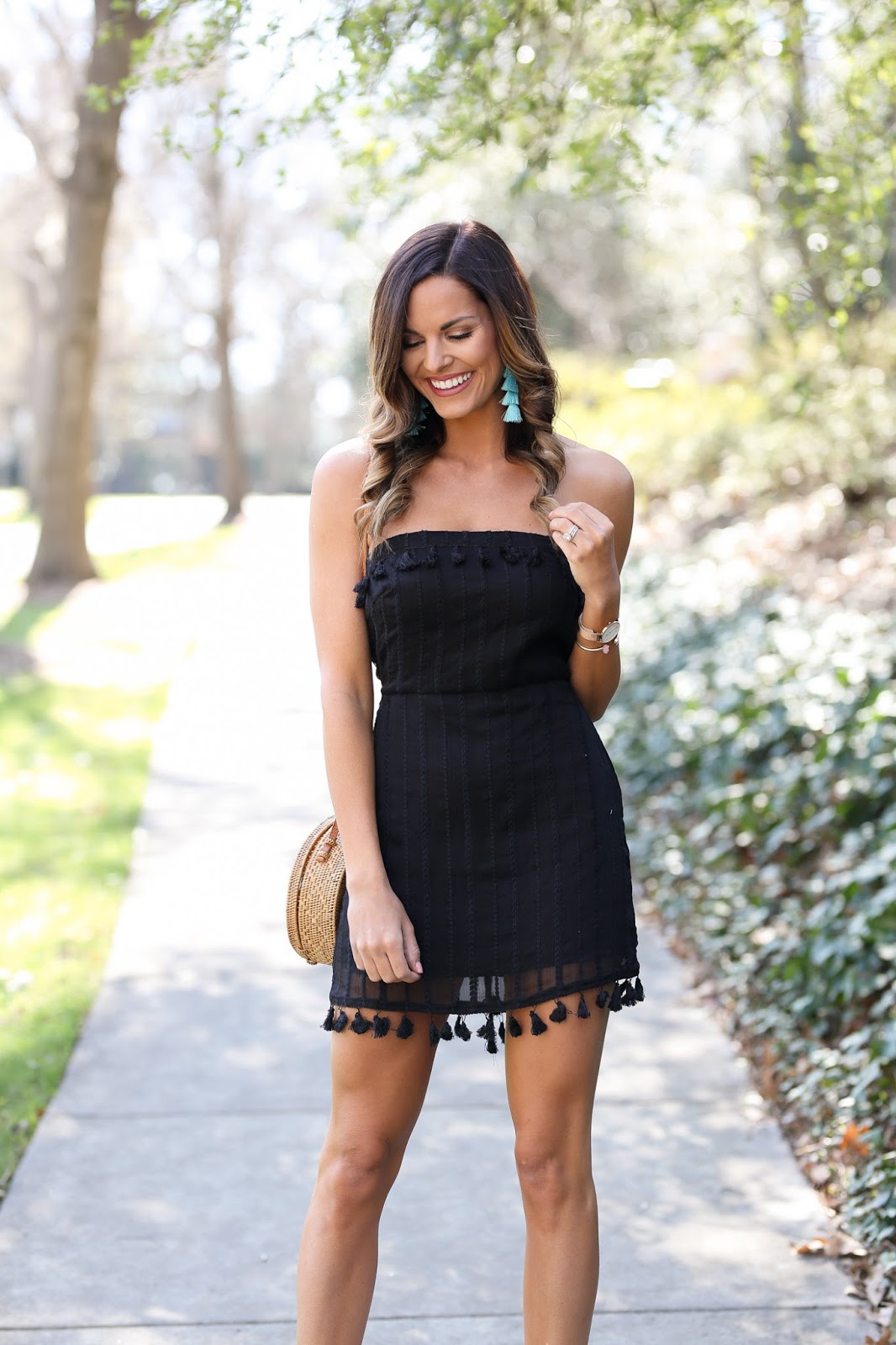 Shop The Jewelry: Amazon.
Occasion: Family daytime birthday party, lunch with friends, dinner date, wedding or black tie event
Colors: Red, green, white, tan, or sunshine yellow
Ornamentation: Stick to a single color for full sparkle but best to keep it simple
Neckline: V-shaped or strapless black dress.
A Dangling Bohemian earring comes in really handy when you are trying to look sophisticated but not dramatic. This is a great chance to tone the look down and this outfit can see you through casual and formal occasions such as weddings.
Dangling bohemian earrings are currently in trend and for a little extra jingly and jolliness, you can also pair these bangles or stack costume rings.
2. Pearl Necklace With Clip-on Earrings
Shop The Jewelry: Amazon.
Occasion: Smart casual events, weddings, or formal cocktail parties
Colors: Champagne, pink, green, or lavender
Ornamentation: Consider clip-on earrings and avoid multicolor pearl necklace
Neckline: Crew, round, and sweetheart necklines.
Black dresses are iconic especially when paired with a pearl necklace and clip-on earrings.
A round neckline with a cap sleeve like the one above works best with a pearl necklace however do not go with extremely multi-colored ones. It is best to choose neutral colors for casual events and something bright like pink for a formal cocktail. parties.
3. Crystal Choker Set
Shop The Look: Amazon.
Occasion: Evening dinner, Wedding, Cocktail event, or red carpet
Colors: black or silver Crystal choker
Ornamentation: Go without a bracelet and stick to a single color
Neckline: V-neck, strapless, scoop neck, plunge, or square neckline.
A choker set is a collection of jewelry every lady ought to have in their jewelry box.
The choker set is perfect for a black dress when you are going to an evening event, and it doesn't matter if you are faithful to the minimalist movement or want to go extravagant, the choker set is perfect.
4. Pearl Body Chain
Shop The Look: Amazon.
Occasion: Beach party, birthday, engagement, or casual wearing
Colors: Rhinestone black or silver color bohemian
Ornamentation: Go for the custom pearl body chain, do not add any other jewelry except an earring
Neckline: Sweetheart necklines.
Time to try something even more unexpected but absolutely fabulous. This elegant body chain complements a black dress effortlessly, and it's one of the pieces of jewelry that is suitable for any casual event. A Pearl body chain is also a great gift to give to a friend.
5. Silver or Gold Layered Chain
Shop The Look: Amazon.
Occasion: Formal event, birthday, engagement, or retirement party
Colors: Bikini gold, silver
Ornamentation: Boho multi-layer in bikini gold and silver, keep it less chunky
Neckline: V-neck and round neck.
It's not surprising how a layered chain can turn out so gorgeous on a black dress. It is okay to layer gold and silver, it is actually the perfect example of mixed metal jewelry.
However, you can try to complement it with another metal that isn't silver or gold, they kind of wrap and enhance your black dress. It is just the combination needed to make a bold solo statement.
6. Wearable Chain Bracelets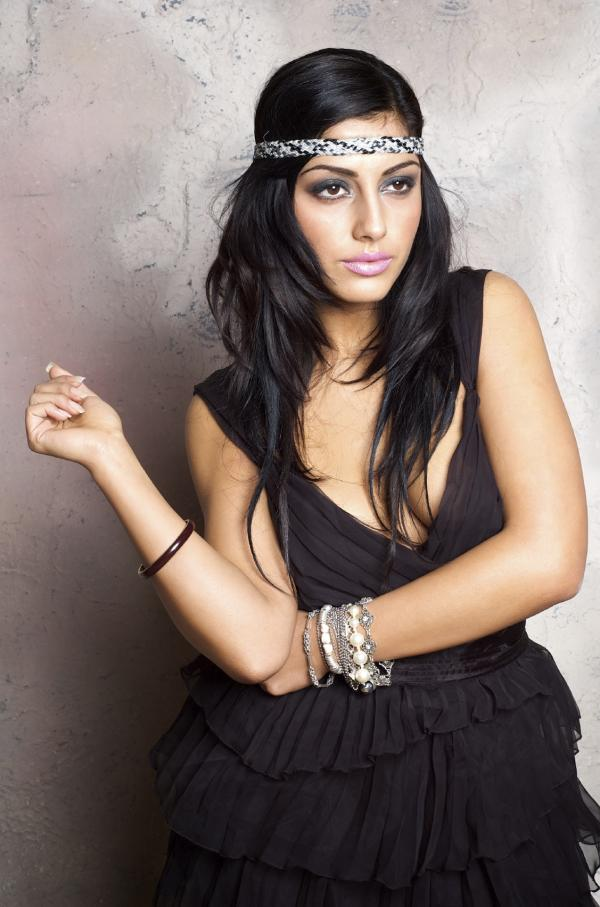 Shop The Look: Amazon.
Occasion: Smart casual wearing.
Colors: Classic hues like red, tan, silver white, and gold.
Ornamentation: Worn as a supportive function to hold any items of decoration you are wearing together.
Neckline: Suitable for all.
So, it's time to move to really exciting wearable bracelets. These are actually suitable for all types of occasions and although there are wearable bracelets for the neck, it is critical to ensure the one you are picking is wearable for the neck and convenience.
Regardless, it's best to stick to these wearable ones for your hand, they really do adorn the black dress.
7. Black Diamond Tassel Earring
Shop The Look: Amazon.
Occasion: Formal events, weddings, cocktails, dinner dates, or engagements.
Colors: Gold, platinum, or pearl black.
Ornamentation: Any carat weight or quality, should match your hairstyle.
Neckline: Any neckline.
Diamond is regarded as a girl's best friend, and we can understand how those sparkly pieces of jewellery can win one's heart.
You can choose a lightweight diamond tassel earring to go with your black dress if you are attending an elegant formal occasion. One of the perks of diamond earrings is that other jewellery won't be necessary.
8. Costume Necklace
Shop The Look: Amazon.
Occasion: Smart casual wearing, girl's night out, cocktail, or wedding.
Colours: Classic hues like red, tan, silver white, and gold.
Ornamentation: Elegantly worn to tie a look together.
Neckline: V-neck line, strapless, round neck, or scoop neckline.
Irrespective of your stand on costume pieces of jewelry, you do have to admit that they are the best choice of jewelry for a black dress.
Costume necklaces originally were used as props but over the years, they have been included in fashionable gowns such as silver dresses, gold dresses, and of course black gowns. It does go elegantly with a black dress, you can also go as big as you want.
9. Beaded Jewellery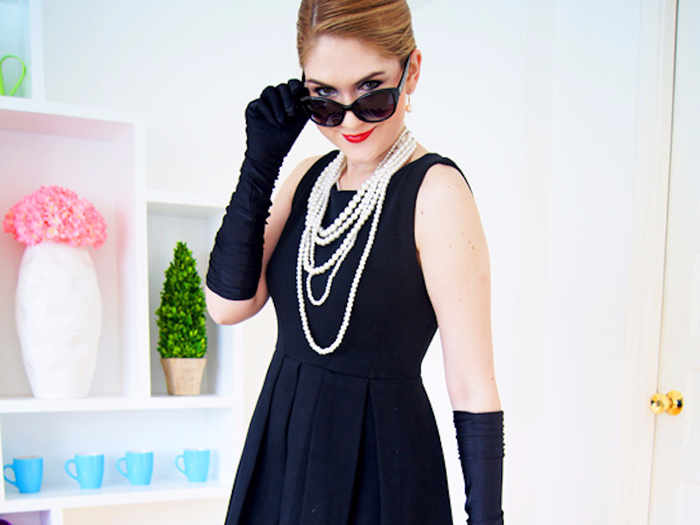 Shop The Look: Amazon.
Occasion: Any and every occasion
Colours: Silver white, white, crystals, pastel greens, yellow and pink
Ornamentation: Complementary with a black dress to make it stand out
Neckline: Compliments any neckline of any outfit.
Beaded jewelry might have been introduced centuries ago but just like costume jewelry, they have been revamped to set trends. A beaded necklace or earring complements a black dress no matter the occasion.
10. Simple, Elegant Gold Jewellery
Shop The Look: Amazon.
Occasion: Any and every occasion
Colors: Gold or silver
Ornamentation: Complementary with a black dress to make it stand out
Neckline: Compliments any neckline of any outfit.
A simple elegant jewelry idea with a black dress seldom goes wrong. This jewelry idea can be found in the jewelry box of most fashionable ladies hence pairing it with your black dress can't go wrong.
Also, there is a huge collection of gold and silver elegant chains and earrings you can get in the market, and above is one of the high-quality sets you can find on the market.
Wrapping Up
The purpose of jewelry is to highlight the natural beauty of the wearers. There is a unique attribute that comes with pairing your black dress with the best jewelry.
A black dress basically is a wardrobe essential, it expresses your individual style and personality and since jewelry have a way of doing this too, it's only imperative to combine them properly