Tattoos are generally raining amongst fashionable ladies nowadays. Have you tried having a tattoo and wondered what design and what part of the body you want to place it? there are numerous options to consider and for underboobs tattoo designs we have some selections of cute tattoo ideas to try out.
Tattoos are a great addition to one's body. It is fashionable and most tomes have significant meanings to it. The underboobs tattoo has gained significance in recent times.
Although, tattoo incisions are painful but very worthwhile when done. The beginning of tattoo arts dates back to the days of Neolithic times and today, it is being practiced across the globe.
When you think of making tattoos firstly decide on what part and especially the tattoo design will fit perfectly. Underboobs tattoo can be either small or very big based n preferences. Looking for that tattoo that will give you that chic look underboob tattoo is a good way to add a unique touch to your overall look.
Look out for the best tattoo that will look right under the boobs. You can always get inspiration from various things you love or close to your heart. When rocking certain types of clothes like a crop top or bikini these tattoo pops out elegantly. they are very bold and adorable when seen as well.
Trending Under Boobs Tattoos Ideas For Women
We have a selection of some underboobs tattoos just for you to try out even as a newbie. Below are 27 underboobs tattoo ideas you should consider.
1. Angel Wings Tattoo
This is the most popular choice of tattoo and it spreads wide under the boobs to help fill up space. These designs look elegant and importantly have some deep meaning to them like protection, faith, and a reminder of a loved one.
2. Roses Under Boobs Tattoo
Roses are a feminine art it can either be colorful or plain and will look very gorgeous under your breast. Roses are very fun and elegant it helps women feel beautiful and confident in their body as well. For a first-timer, this is an option we'll suggest for you to try out.
3. Snake Tattoo
This is another type of underboob tattoo it represents strength and adaptability and importantly rebirth of a person. It can be made in different parts of the boobs consider leaning toward the side of the under boobs for a more stylish outcome.
4. Bird Tattoo
If you're looking for something modern or traditional this is a great tattoo art to consider. It's very good for both young and older women as well. This is one of the most popular designs you can consider going for.
5. Mistletoe Tattoos
This is a strong tattoo with a deep meaning to it as well such as hope and friendships likewise ink the tattoo down from the sternum it's an awesome underboob tattoo for women.
6. Blossoms Flower Underboobs Tattoo

If you're a tattoo newbie you might want to try this out. It is light and very beautiful and colorful as well. They are perfect for the modern-day aesthetics and up-to-date design you have as a woman.
7. Lotus Tattoos
There's no such thing as having too many flower tattoos on your body. With lotus, you can add a few more designs to it to get a full outcome. Go live your underboob tattoo dream with this lotus tattoo art.
8. Whale Tattoo
whales are magnificent and mind-blowing creatures and will look good sitting under the boobs. A small version of a whale ensures you keep your tattoo simple and cute.
9. Quote Tattoos
Having your special quotes inscribed on your body is very common and popular these days. Quotes can be of any words that are personal to you alone. This can be a single word to keep it short and simple or go all out with a sentence quote.
10. Owl Tattoos Design
This is an example of a detailed under-boob tattoo. It symbolises transition, Windom and intelligence. One thing you have to keep in mind is that it's full-length art that covers the entire under-boob area.
11. Cute Fingers Tattoos
Oftentimes, small tattoos are used for under-boob tattoos and we love how they turn out just like in this picture above. It serves as a symbol of hope just like the hands of angels stretched out. We have concluded that this tattoo idea is the perfect idea.
12. Twin Floral Vines
This is a different type of floral tattoo art and it creates a more concept of floral tattoos. If you're looking for a tattoo that goes under both boobs this is the best option. You will see the details in the tattoo with how they match together at the center.
13. Henna Inspired Tattoos
Henna is a temporary ink that clears off over time. If you want a more permanent feel to your henna designs consider getting a henna underboob tattoo for that. It is a contemporary style and won't get out of style.
14. Sunflower Tattoo
The sunflower tattoo is one of the most stunning designs we have seen. As shown, the colors were added as well to give that prominent look. Ensure to draw a sunflower tattoo at the center of the boobs.
15. Sun And Moon Tattoo
This type of tattoo is a traditional tattoo design and will look amazing on anyone. If you want a cute and religious tattoo that comprises earth elements you're on the right part. It can also serve as a reminder that life is beautiful.
16. Medusa Tattoo
Medusa is a generally beautiful creature with snake heads it's an inspiration gotten from a movie. With this tattoo, you're equally beautiful and magical. They elegantly complement the shape of the boobs perfectly.
17. Angel Tattoo
Angels are representations of the presence of God they are angelic and lots of girls will agree with this. It is also suitable for all ages and a sign of an ode to your faith.
18. Hearts Tattoos
When picking a tattoo you need to pick something that you will love and appreciate seeing on your body. It's very light and will also be very easy to draw, looking for a quick tattoo to try out go for this.
19. Diamond Tattoos
The diamond tattoo design is a simplistic approach for tattoo lovers. It looks gorgeous when made underneath the boobs and gives that radiant look you're looking for.
20. Heart Of Thorns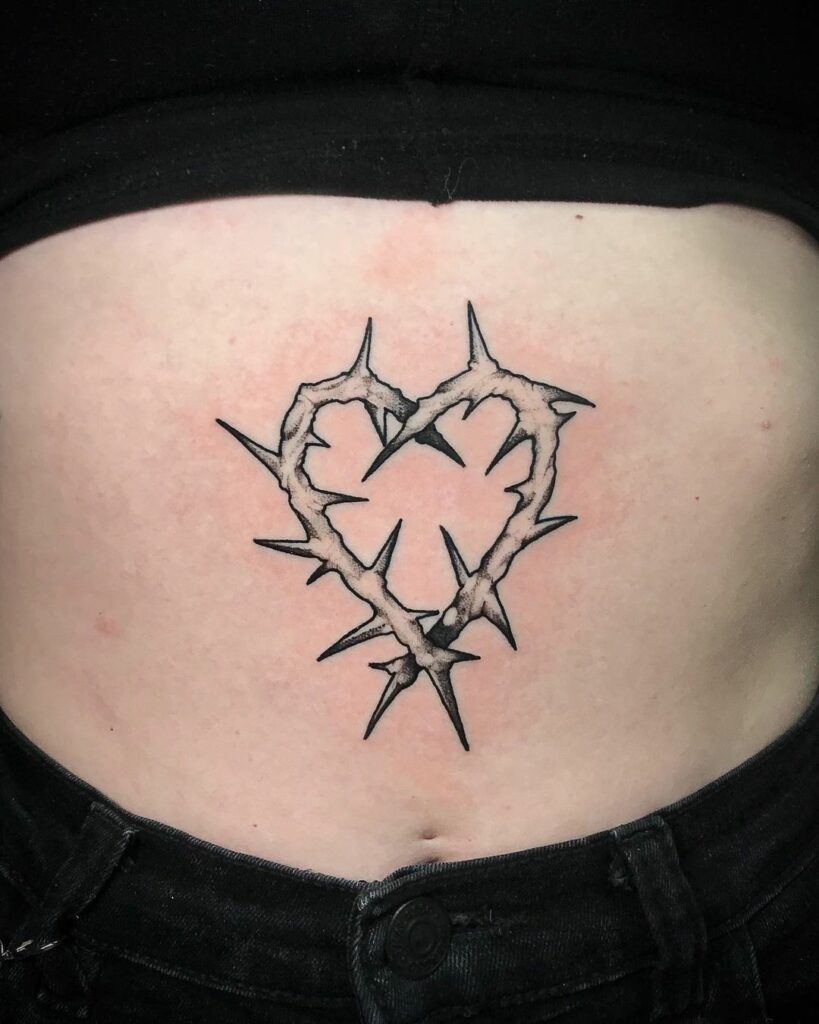 If you want to have meaningful tattoos on your body a crown with thorns is certainly the right choice. It defines the daring sacrifices of God to us which makes it more beautiful to be on the body.
21. Skull Tattoo
A lot of women like to have a tattoo like this. Skulls are not a bad idea for an underboob tattoo and they also help bring out the Gothic part of a female.
22. Mandala Tattoo
This is another design of underboob tattoo design it represents the circle of life. Also very versatile and suits everyone.
23. Butterfly Tattoos
This is of the most popularly made tattoos. Go for a small-sized butterfly tattoo to get that cute and gorgeousness from your tattoo.
24. Dragonfly Tattoos
Every woman loves tattoos especially if you can make them simple and classy. Dragonfly doesn't need much drama and you have to maintain that simplicity with the drawing as well
25. Bee Under Boob Tattoos
Looking for something small and not to show in for your first underboob tattoo? Here is the one for you, it can also be customized to personal preferences.
26. Knifes Tattoo
This stunning under-breast tattoo represents bravery. Right at the center of both breasts or at the side of either boob. If you want something that doesn't fill up the sternum.
27. Watercolour Tattoos
Your tattoos don't need to be plain and boring. If you have ever considered having a colorful tattoo for your under boobs, this is a go too design for you. Look at the cute my of color to give the symbol of brightness, happiness, and fun.
Conclusion
Trying out tattoos on other body parts is now a trend. However, you need to also know the various types of tattoos that will fit well in those places.
Just like the underboobs tattoos, we have compiled a list of 27 cute ideas for you to try out.