There is nothing like a good manicure set for your nails. It makes sense to ensure your nails also complement your clothes as you can't dress well and be looking shabby with your looks. Fashion lovers will put effort into making an all-around effort with your outlook appearance. Hence we've curated these 23 Hawaii-themed nail design ideas for you.
Hawaii is known to be a beautiful and fun place. Hence, you need to be very particular with the choice of nail color and design used. From the color and design of the nails, they are all as important in creating a memorable nail look.
For Hawaii nails, you need something that will pop out and not boring at al. go all out with colors and creativity used.
When it comes to nail arts various things can be a source of inspiration for your nail and this includes a country just like Hawaii. Fashion is generally about creativity in Hawaii lots of beaches, palm trees and so many other things are what constitute the country so you need to make use of this to have that Hawaii feel to it. Depending on your personal preference you can go for a long or short length of nails.
Hawaiin Nails Ideas You'll Love
The act of making nails is now more profound than ever for women. Use both light and dark shades of colors but add some elements that showcase Hawaii as a whole. To get the best nails one needs to get a talented manicurist to get the most perfect result with your nails. Do you plan on going on a vacation soon you might want to try out some of these Hawaii-inspired designs?
1. Ocean Blue Hawaii Nails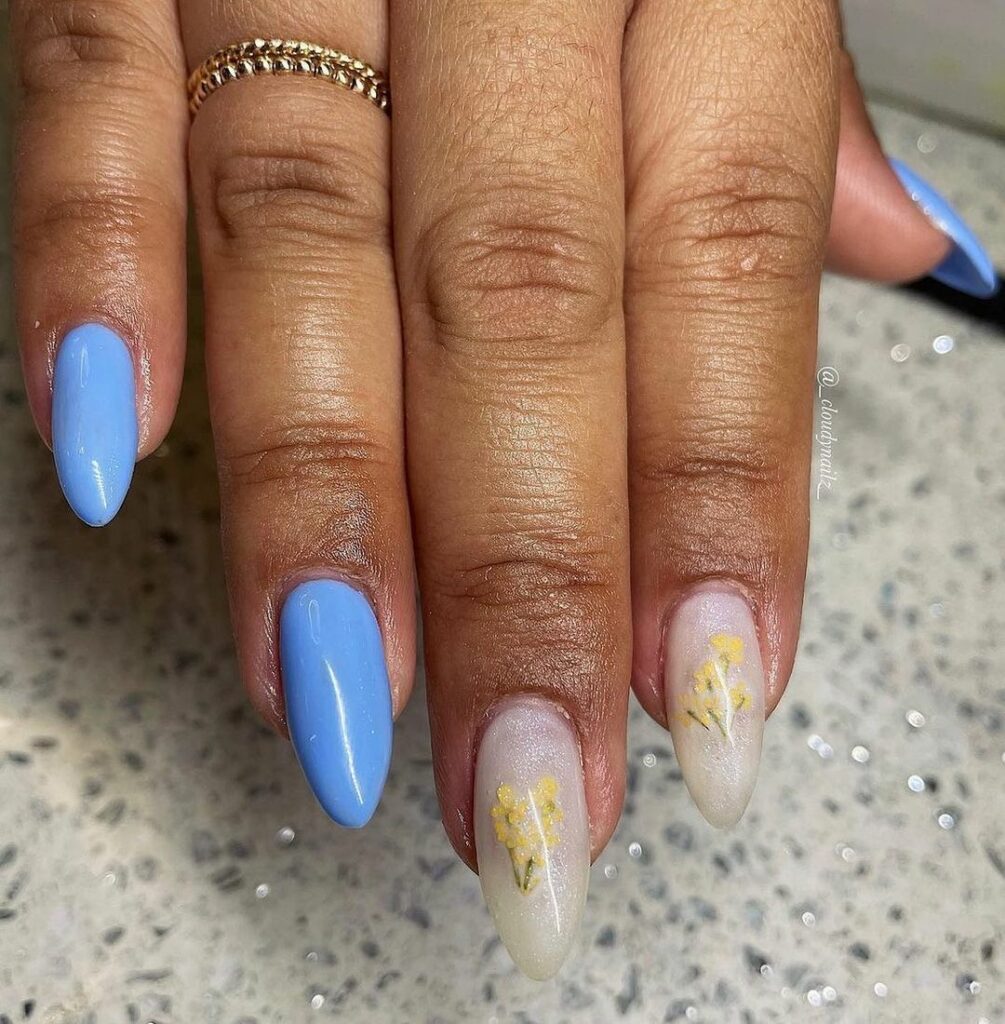 The ocean color is a shade of blue and a lighter color of blue. It will match the ocean for your trip to Hawaii. Generally, Hawaii is a vacation city for so many the serenity of the environment makes it very unique and outstanding when going out. It will go well with bikinis and some sexy wear for your trips as well. This is a color you can never get tired of.
2. Rose Gold Hawaii Nails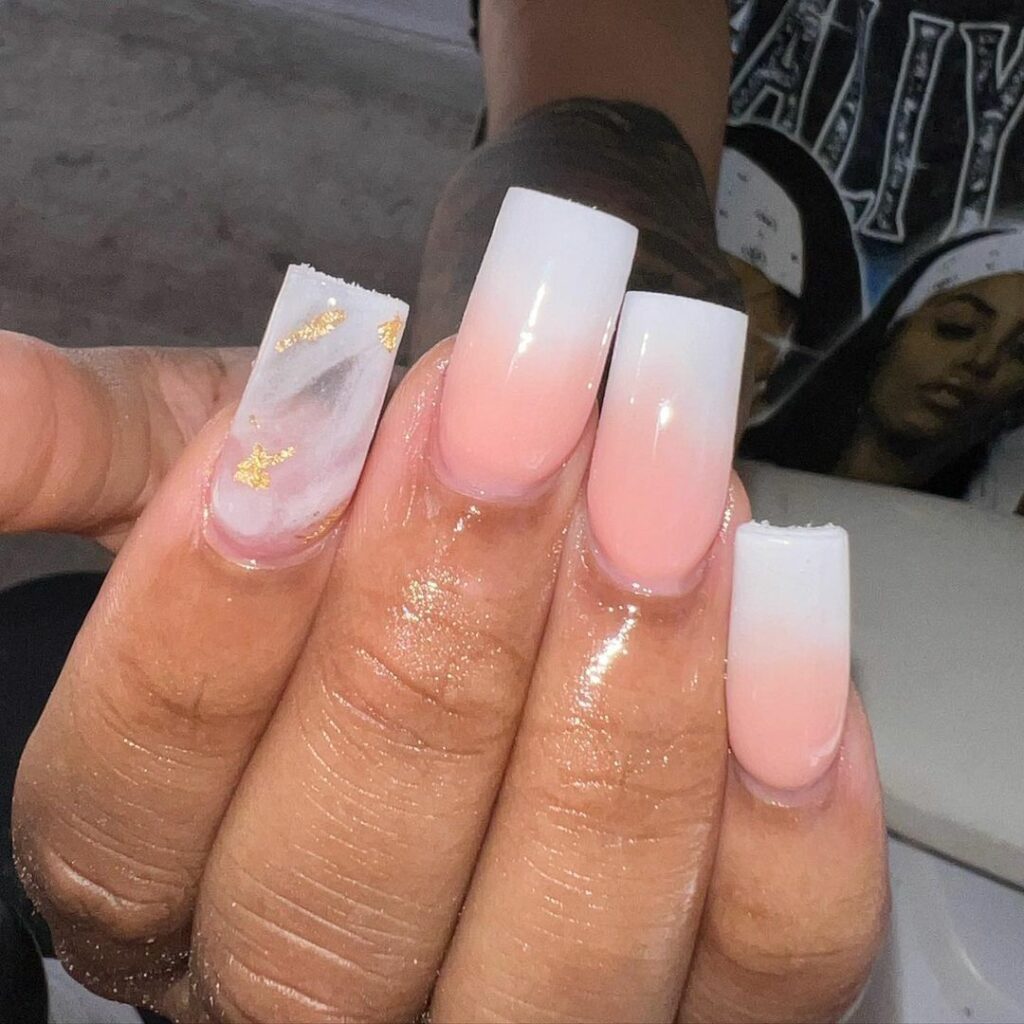 This is a pink-inspired colour that gives a satisfactory nail blend with a light or dark-skinned tone. With a nice-looking bikini on with these nails, it would give you a popping reflection. Going on a Hawaii trip with this set of lovely nails on would give you a unique and dazzling look when out. Spicing up these nails with a bit of beach-inspired topping on top of the nails
3. Bright Yellow With A Highlight Of Orange Hawaii Nails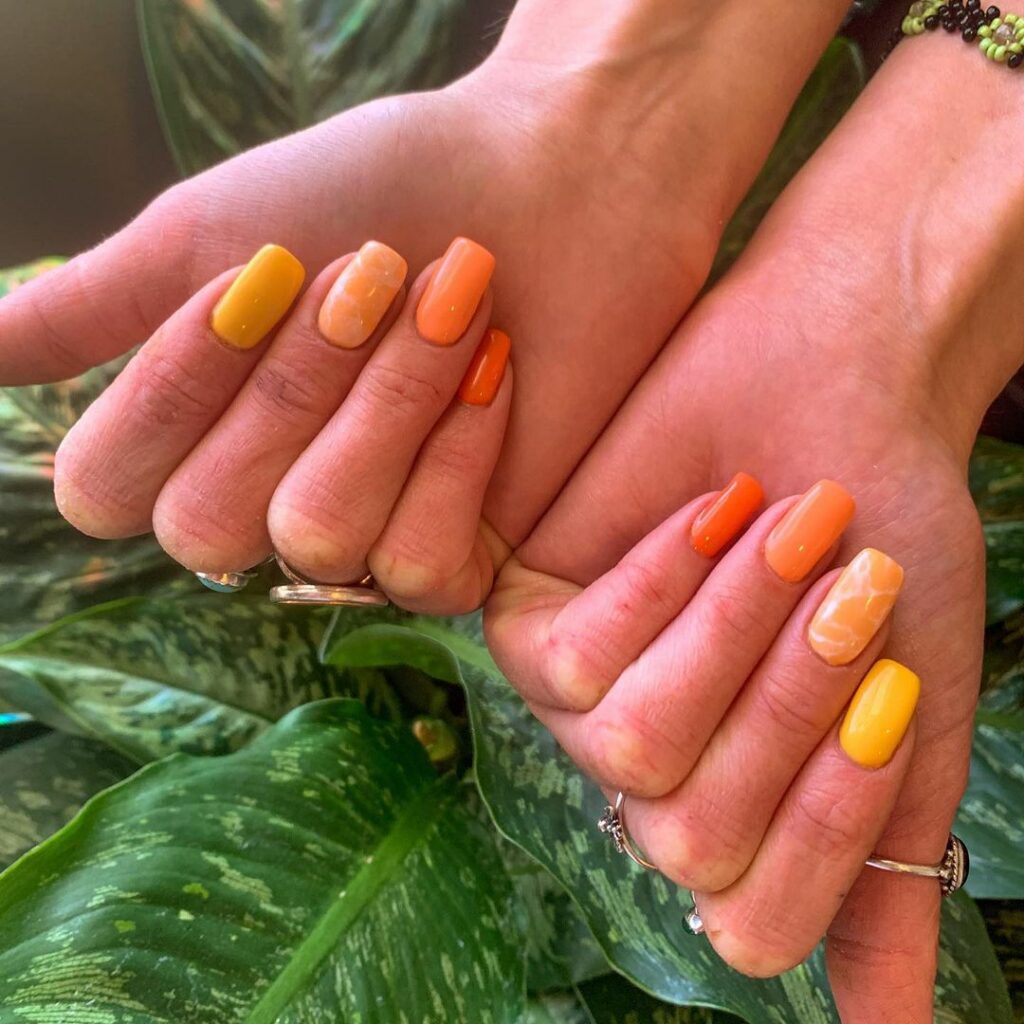 This yellow color nail is an inspiration for the sunset with a touch of the palm tree drawn on it. This is a statement-colored nail that helps to embrace the sunset view perfectly with a few inspired views on the nails, for example, a palm view drawn on these nails. With the perfect matching bikini or swimsuit, a combination for this Hawaii-inspired nails, you will be giving the perfect inspiration for this occasion
4. Tropical nails design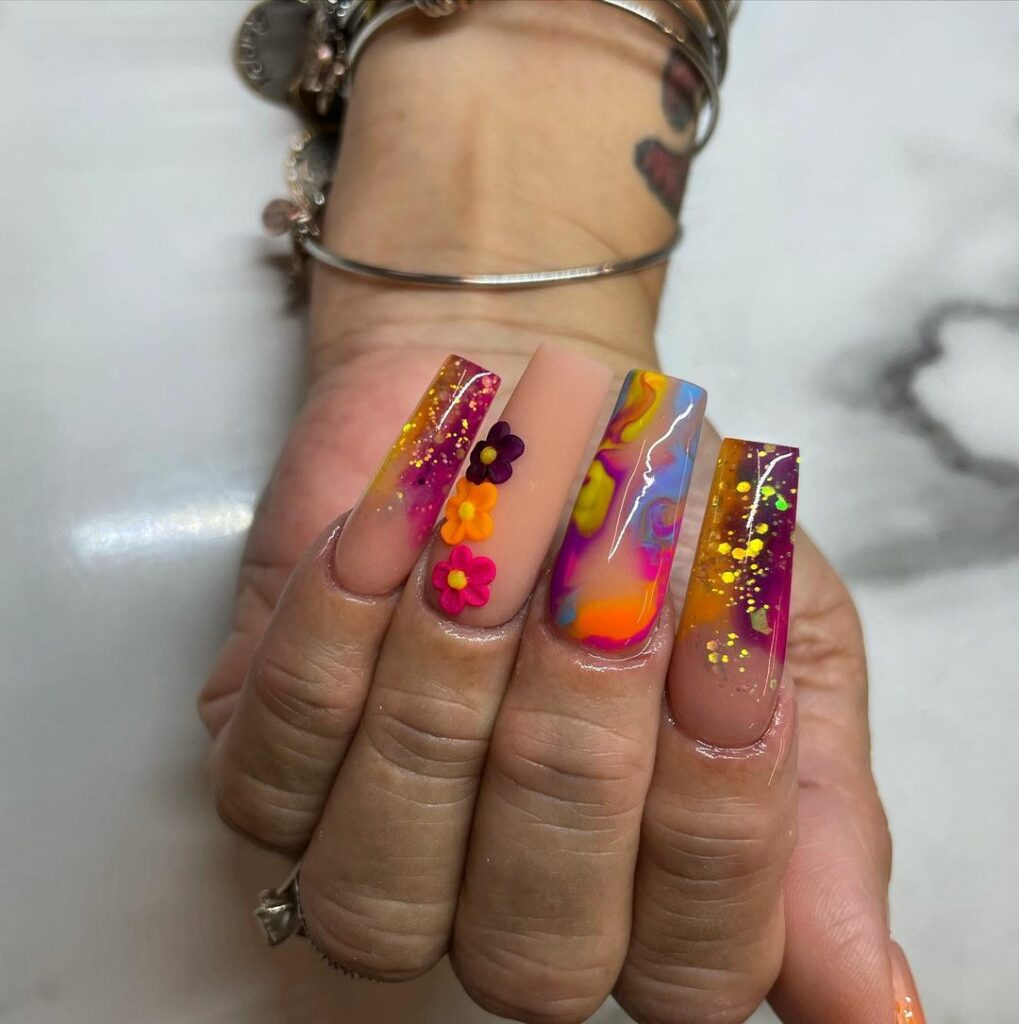 This tropical nail design can be achieved with different colors and nail aesthetics drawn on it, for example, blue-colored nails with a few oceanic view design drawn on them that reminds of the ocean view on it or neon-colored nails with the design of a palm tree drawn on it perfectly to blend with the colored nails. These nails would leave little to no imagination of the perfect tropical view you would be getting in Hawaii
5. Blue And Nude Hawaii Inspired Nail Design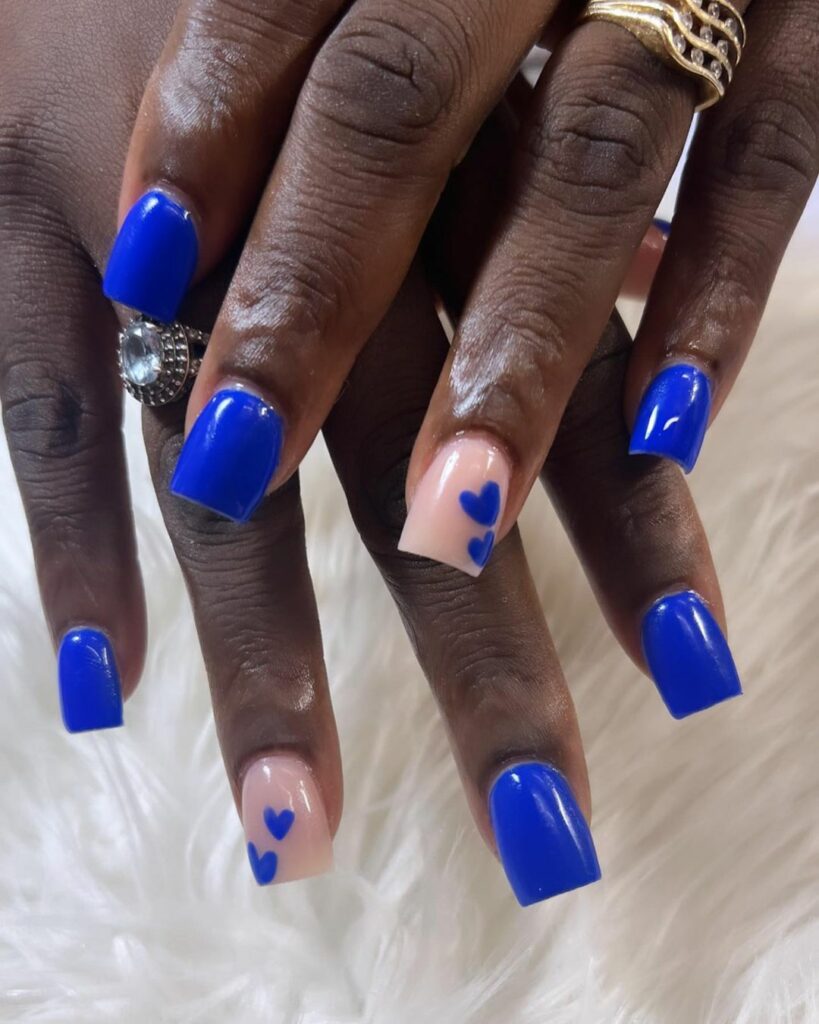 This nail is inspired by the sky and the water colour which stands for blue and the nude represents the sand colour. This blend of nails is a very great nail aesthetic that gives the best of your imagination to the Hawaii view. These nails should be perfectly drawn with a brief view of the ocean, sea shell or palm tree. You must match these nails with a nice coloured bikini to give the perfect look
6. White With Different Colored Swirl Nails Design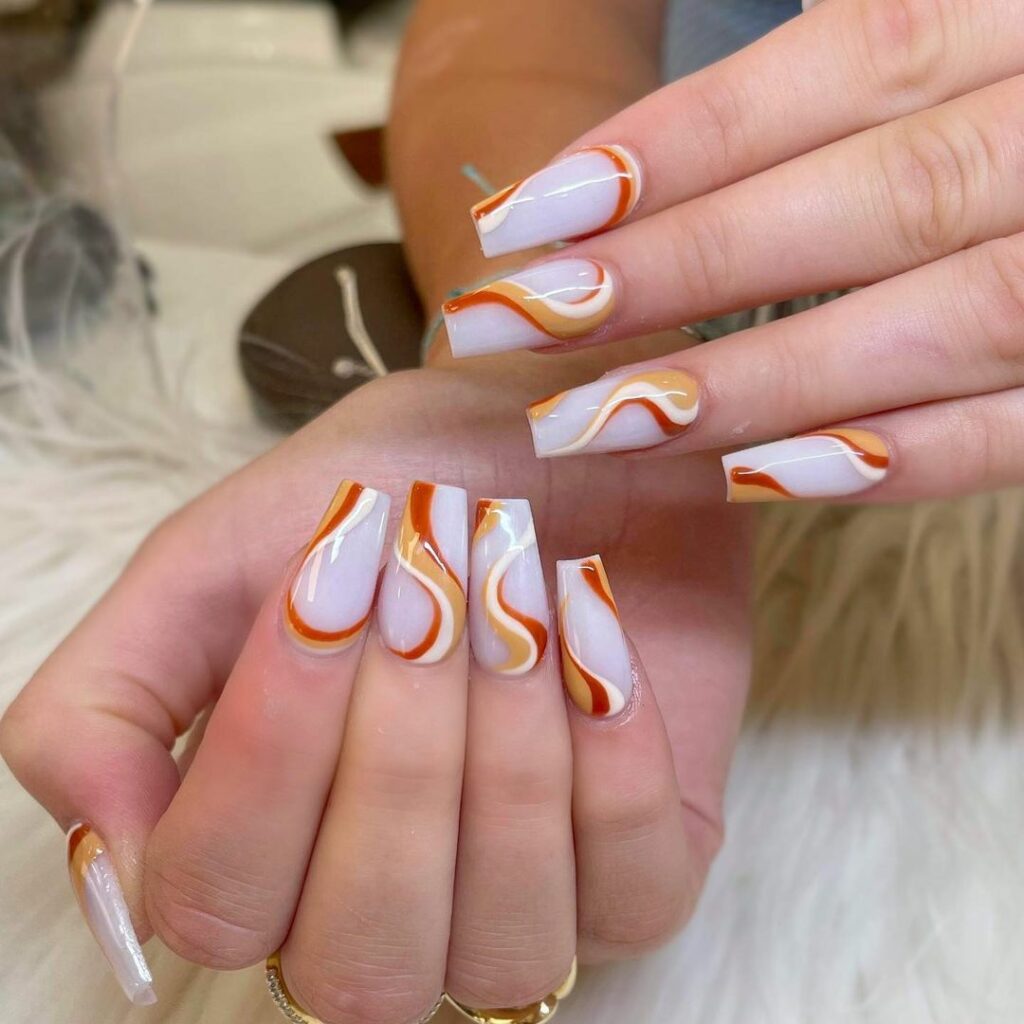 You don't need a specific color to make statements with your nails. Getting a white nail done with a perfect nail polish type either acrylic, gel, or matte, you get to own the best nail look with this given color Adding an extra to this nail won't be a bad idea in other not to leave it looking plain and old, lets spice the nails with various nail colors by the tips ensure its a bright looking colored nail, for example, a blue, orange, yellow, etc.
7. Leaf Green Hawaii Design Nails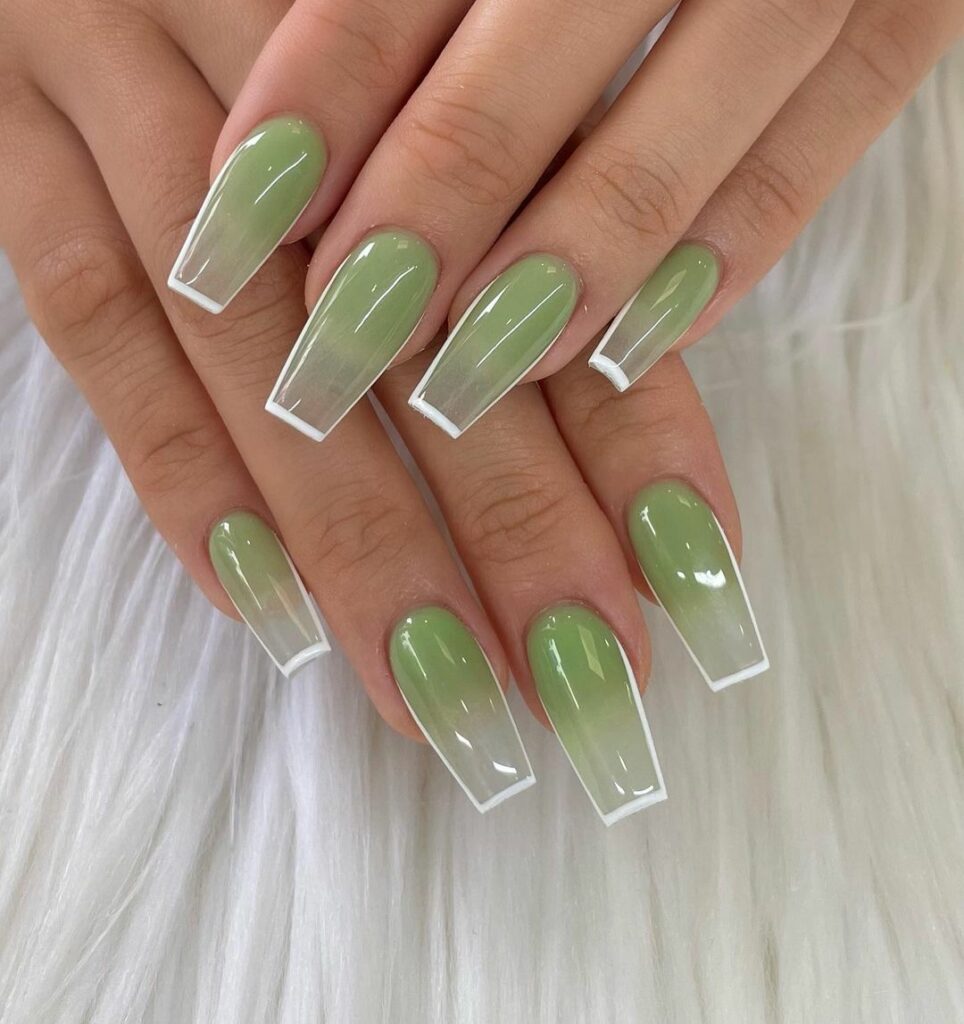 The green color is a bright color that calls attention and would pop out well on a perfect skin tone either light-skinned or dark-skinned. The description of the nails above is a very good view of Hawaii-inspired nails except the green comes in place of the blue. With the nails are done perfectly with the palm tree design and a bit of floral design to not leave the nails plain and boring
8. Sparkling Blue Nail Design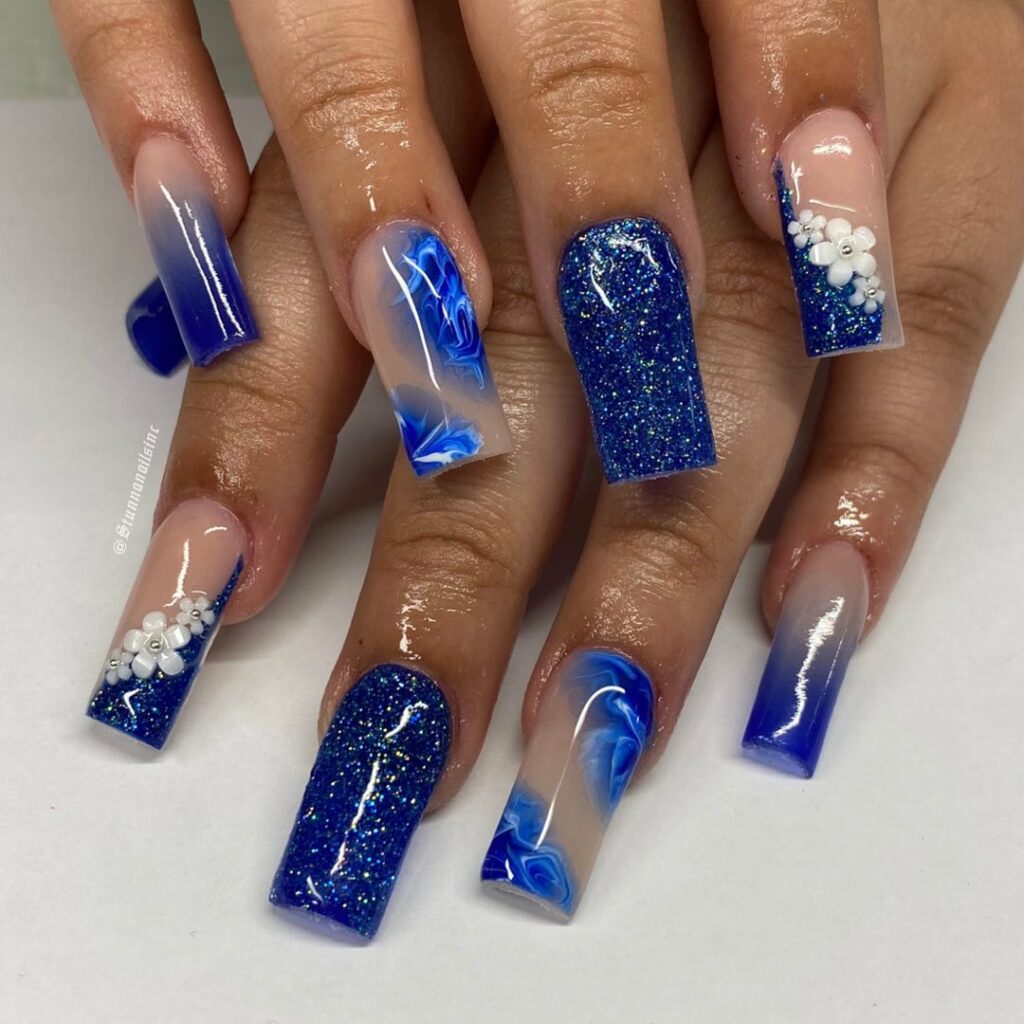 This beautiful nail design is a perfect blend of the sky and the sea of the Hawaii aesthetic view. But in this case, we will be using sparkling blue to spice up the plain blue color. This is a basic nail art design that would match the ocean view. Wearing a brightly colored swimsuit to blend with the above color won't be a bad idea. You can also change the color to nude depending on your mood.
9. Brown And Blue Highlights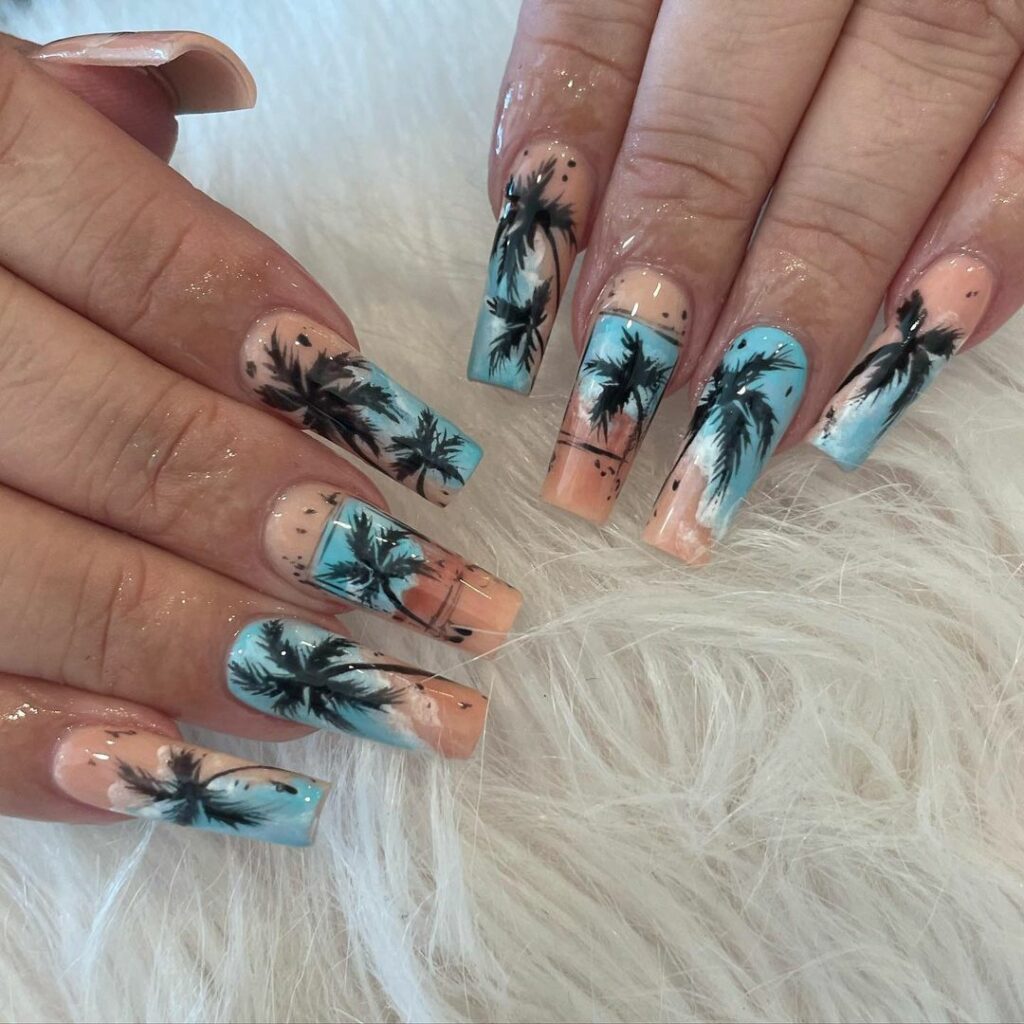 For Hawaii nails, you need something fun and sometimes things that aline with nature. Brown and blue are a great combination and will blend in greatly. The blue highlights represent the color of the ocean and help brings life to the nails.
10. White With Palms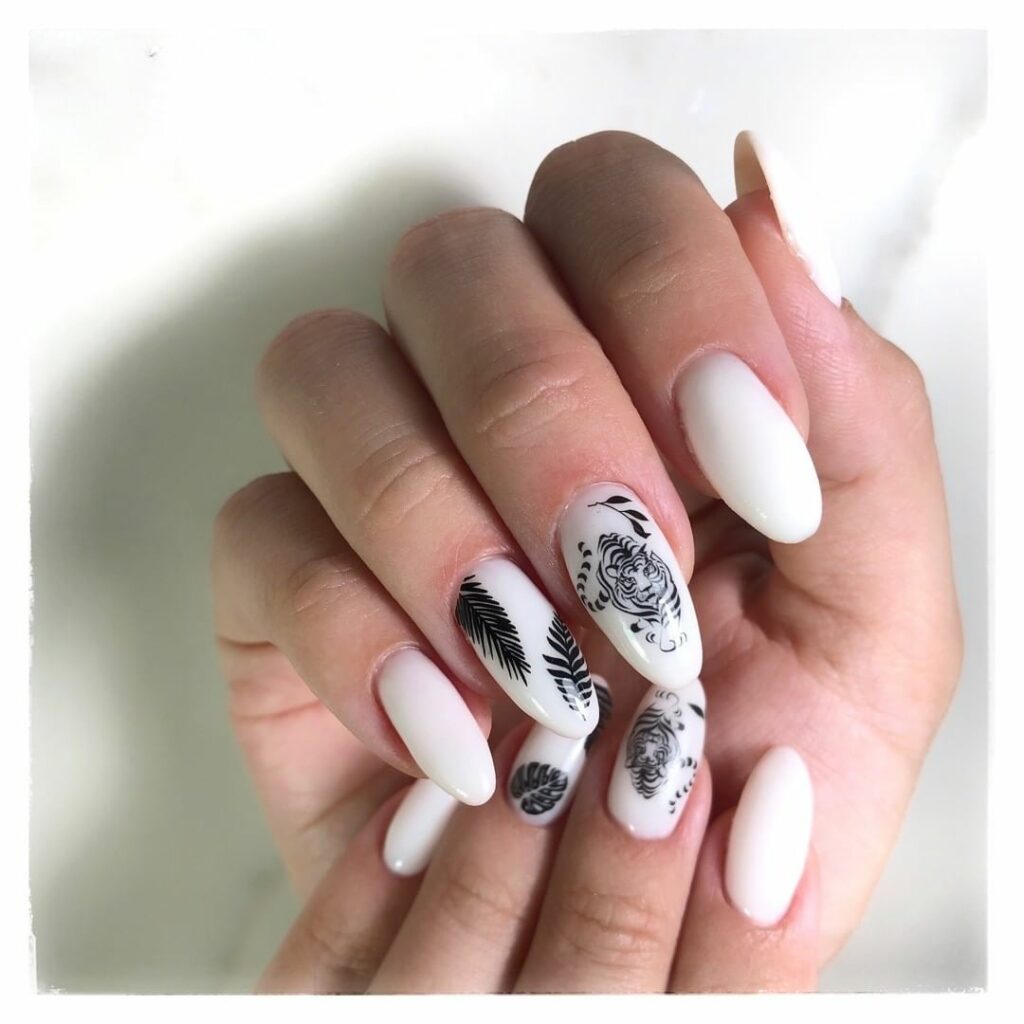 White is generally a neutral color and can be mixed with any other color as well. The use of black to draw out a colorful strip of leaves highlights to avoid making it look plain and boring. White is very neutral and will blend into any color of clothes hence why it is a major element inclined into nail arts.
11. Plain Blush Pink Nails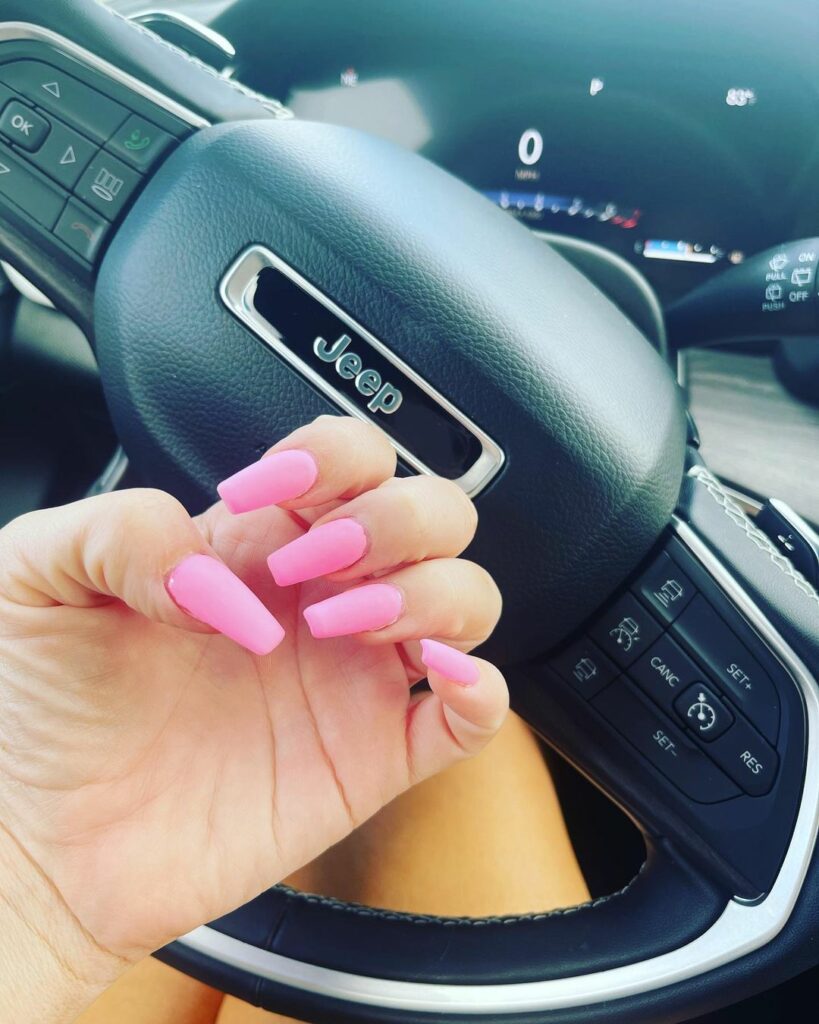 Pink is an all-time favorite for women. Pink nails help you relieve your princess feel and nowadays, are worn by women to feel good and beautiful and out themselves. The color is bright and very elegant to be worn out. Try this nail color design out and stand out.
12. Brown Nails With Colourful French Tips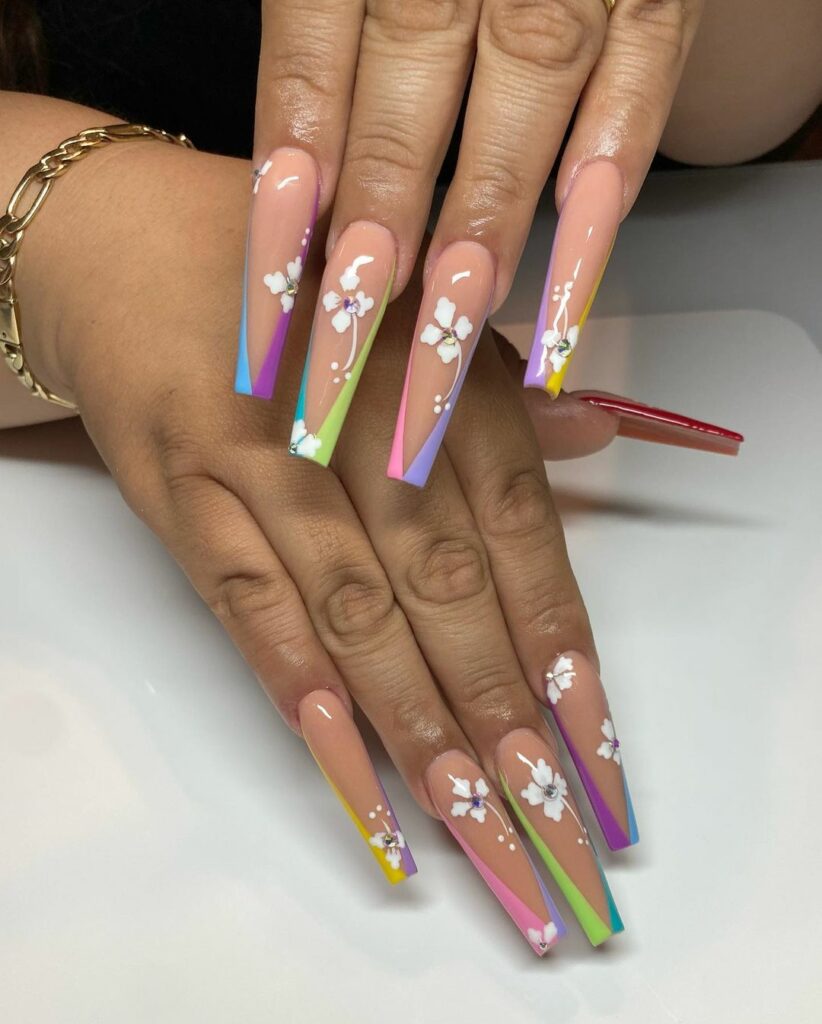 French tips are now a thing for nail painting. There are various ways in which this can be done. With the use of a plain colour as a base thereafter apply any bright tone to compliment the entire look you're heading for. As shown, make use of different colours like pink, neon and so on.
13. Bling Nails With Floral Details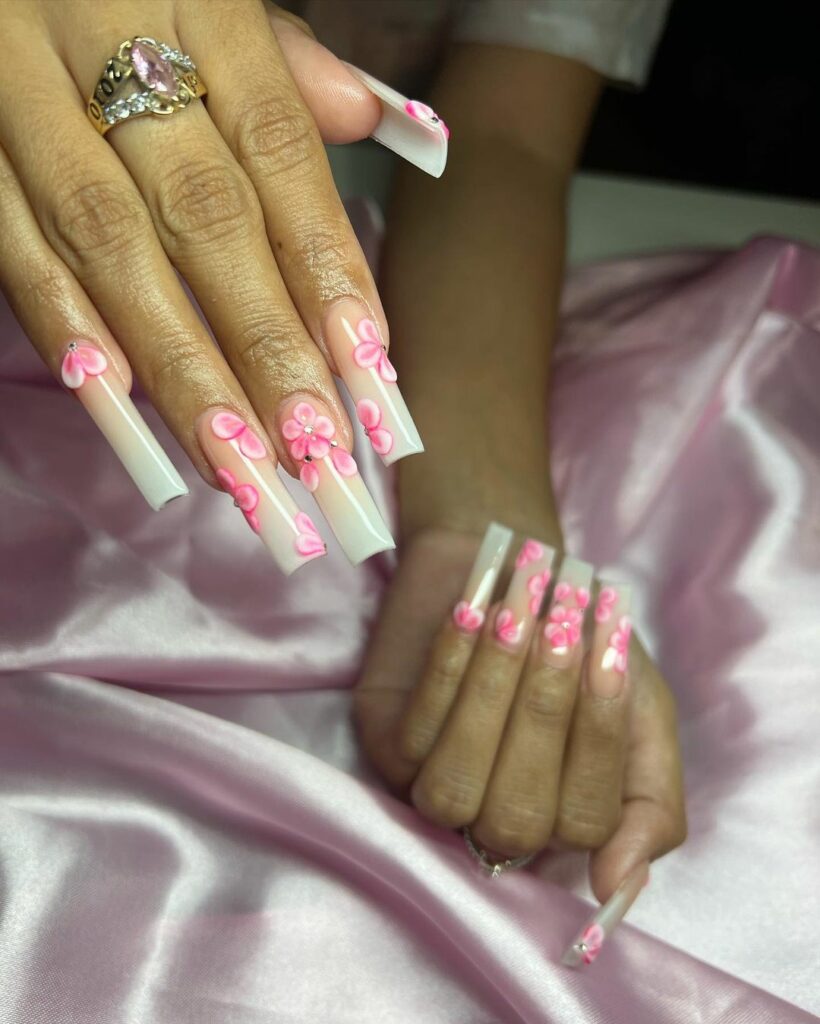 Have you tried out the floral details of flowers on your nails? The art of nails goes beyond simply plain and boring things. Women now try out various artistic drawings and art on their nails to give broad details and something fascinating for the eye when seen.
14. Oval Nails With Zebra Tip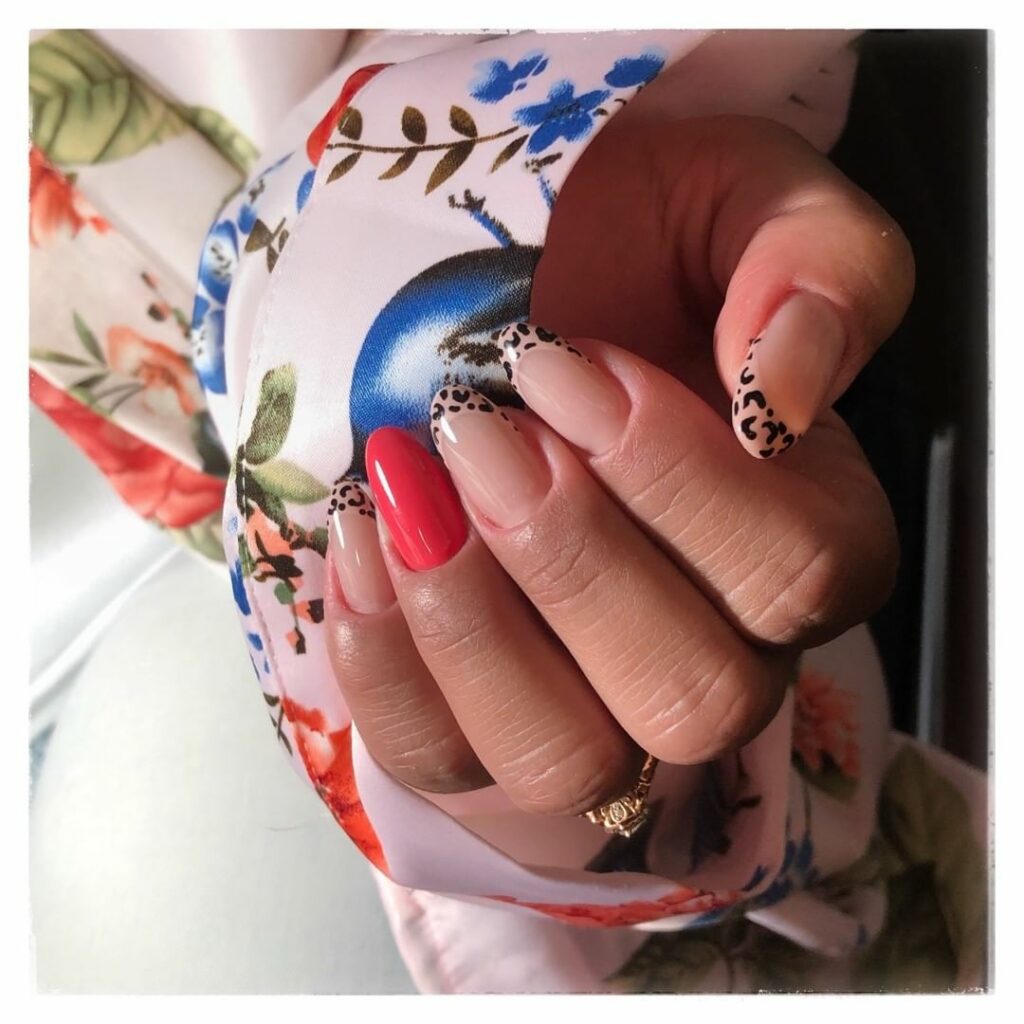 Looking for short nails to try out in Hawaii a shirt oval-shaped nail is the best and will give you that edge needed to stand out elegantly. A zebra detail can be with any colour of choice. The oval shape is very beautiful for short nail lovers who want to add some style to it with that zebra in black and white.
15. Purple And Pink Nails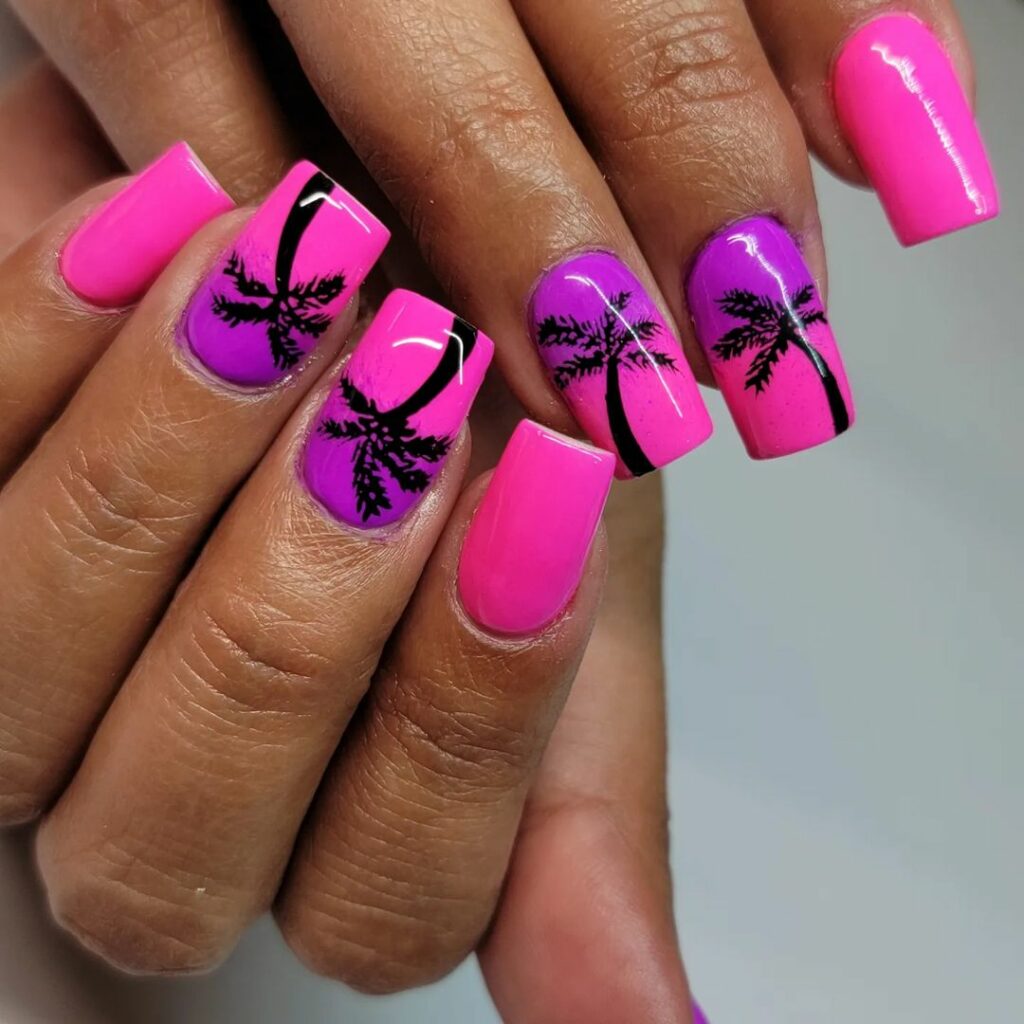 For a very feminine Hawaii look. Opt for a cool purple and pink colour of nails. The colour doesn't need too much extravagance. Simply add some Aesthetics to complete the design. Hawaii is known to be fun and bright with this mail you're also giving that vibe.
16. Colourful Nails With Rhinestone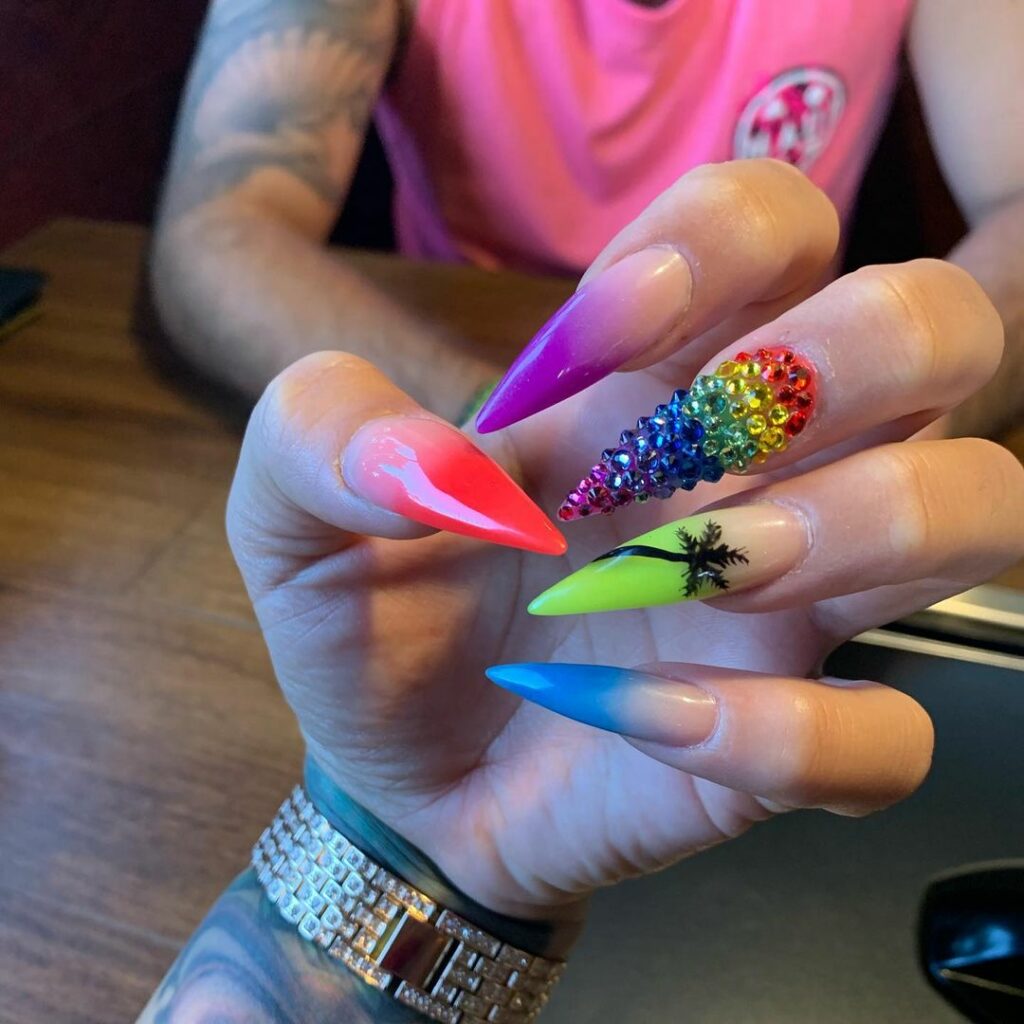 Applying stone on nails is not a new thing. However, we have experienced some beautiful ways in which they have been used with your nails. These colour choices are very fascinating and very classy for a tryout for a change of colour choices.
17. Lilac And Butterfly Detail Hawaii Nails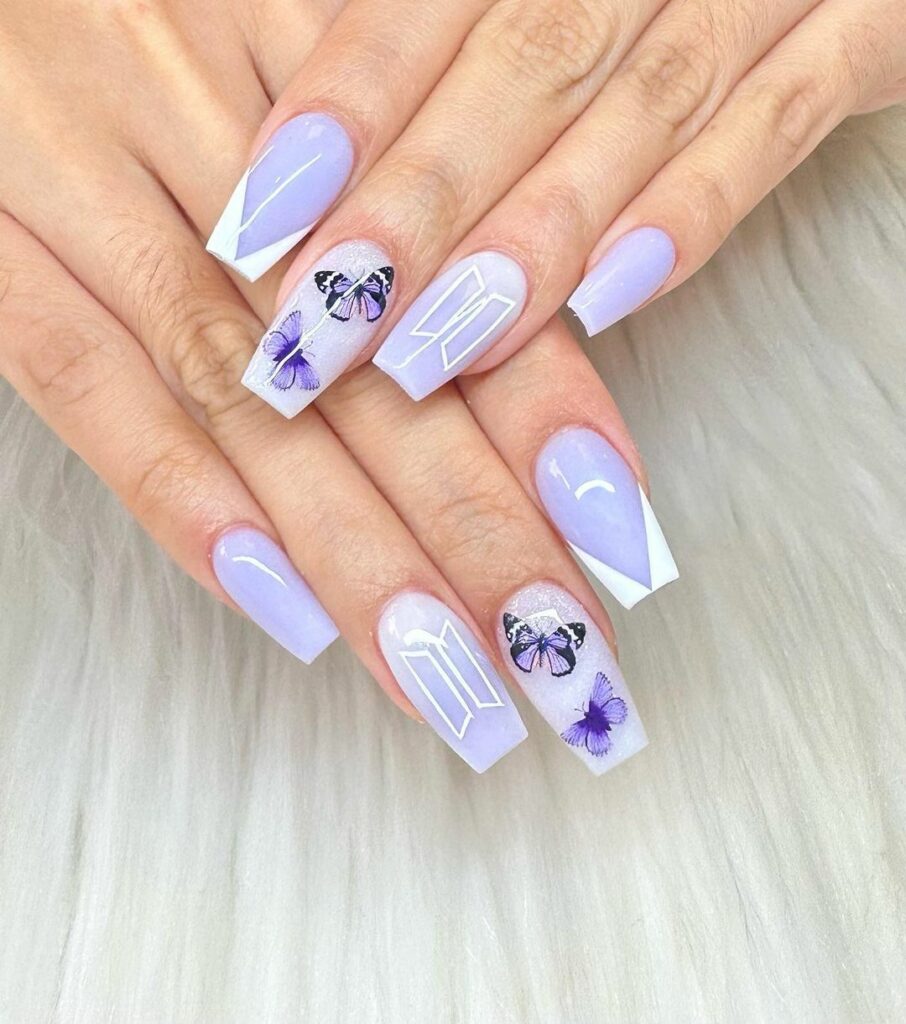 Lilac is a subtle shade of purple, it's not too bright and with that white butterfly highlights, it's very pretty on the nails. This shade blends in with a light skin tone and helps give a pop not only to the face but also to any outfit worn.
18. Marble Nails With Ocean Details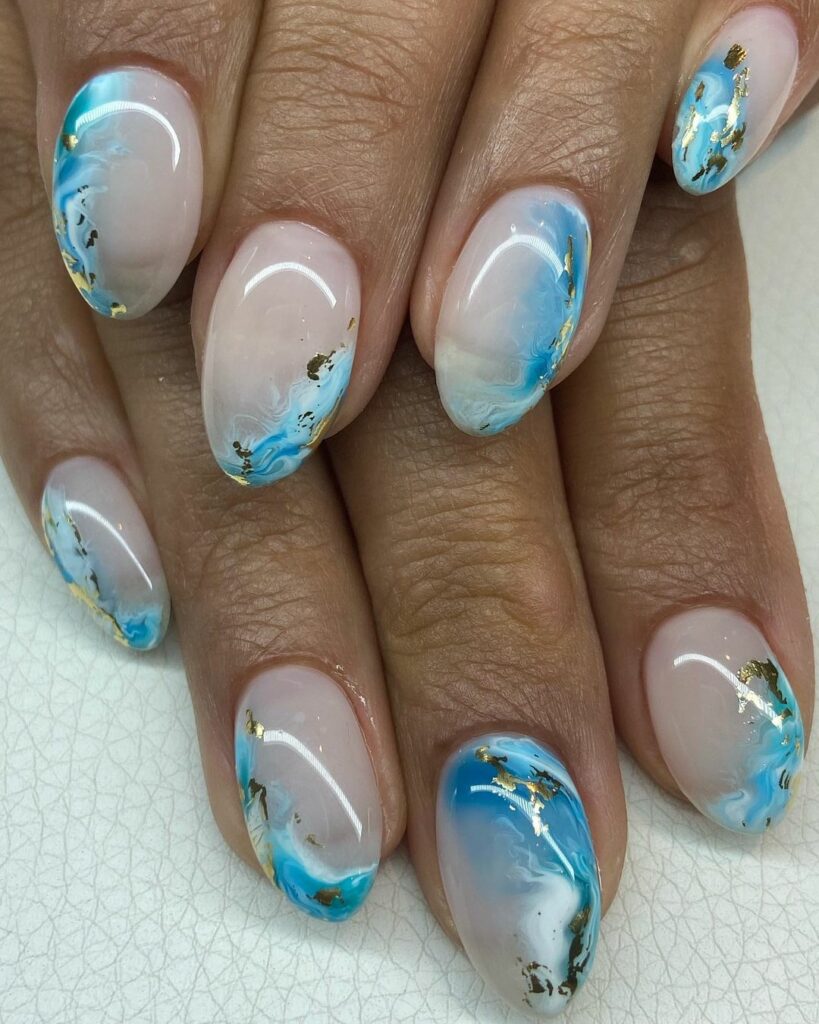 It's no news that Hawaii has the best Ocean view hence why it is always a favorite vacation spot for so many women out there. This choice of nails is very different and will make you talk at any place. The details of the blue ocean color have a very deep meaning to many Hawaiians as well.
19. Clear Nails With Leaves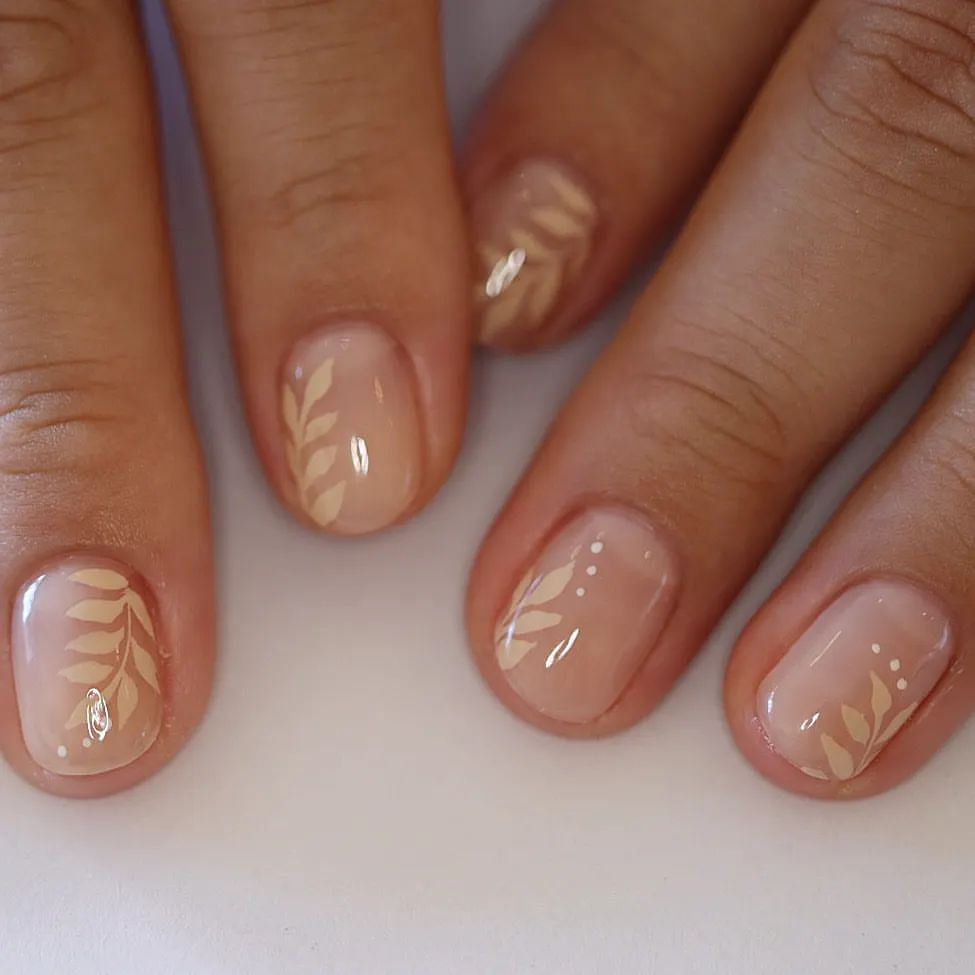 Clear Nails are pretty gorgeous and high-end. Gives that boost and classy girl vibe as well. When having a fix on what design and colour to make this is always an option available to be tried out by women. Not only is it simple and fashionable it is a very casual look for conservative women.
20. Yellow Mixed With Leaves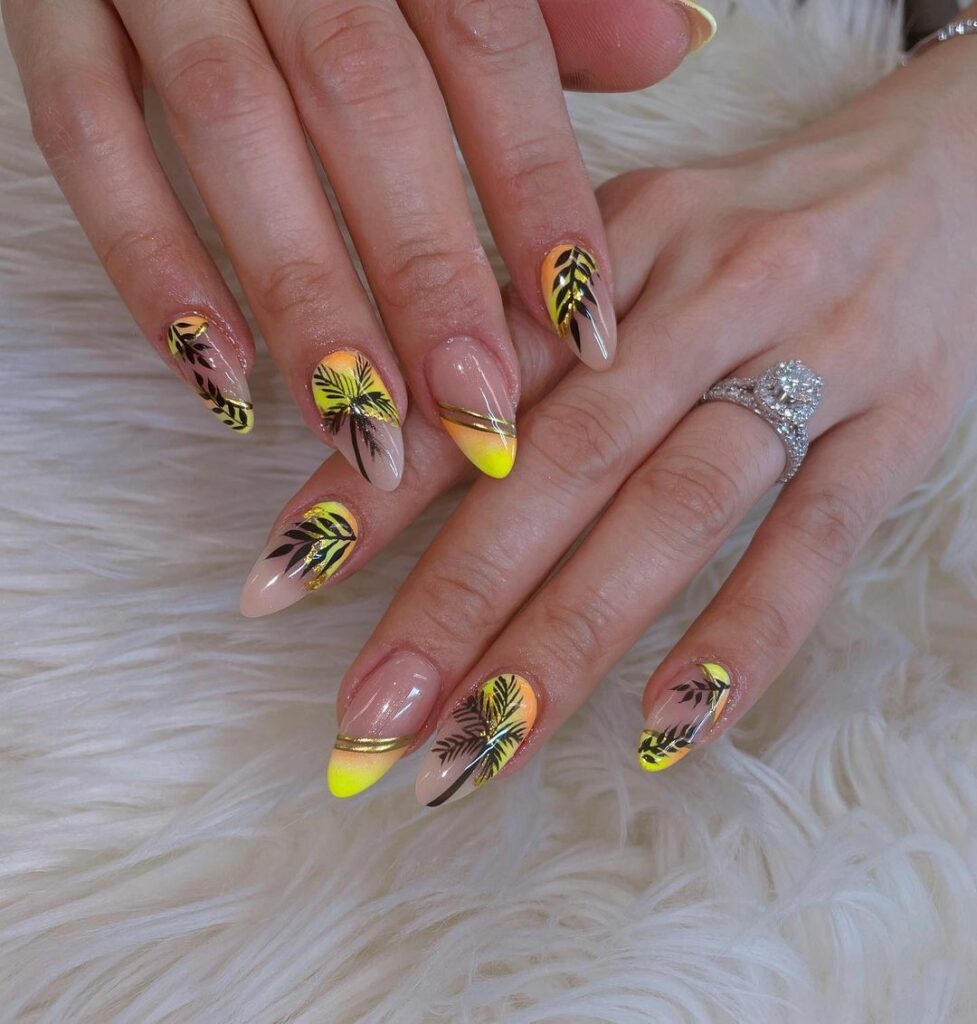 The beautiful sunset of the Hawaiian country needs to be inclined into your nails as well. Yellow is a very cool color, with the leaves marked out on the nails as well. Yellow is bright and will be a very detailed outcome with the leaves drawn up on the nail.
21. Nude And Red Nails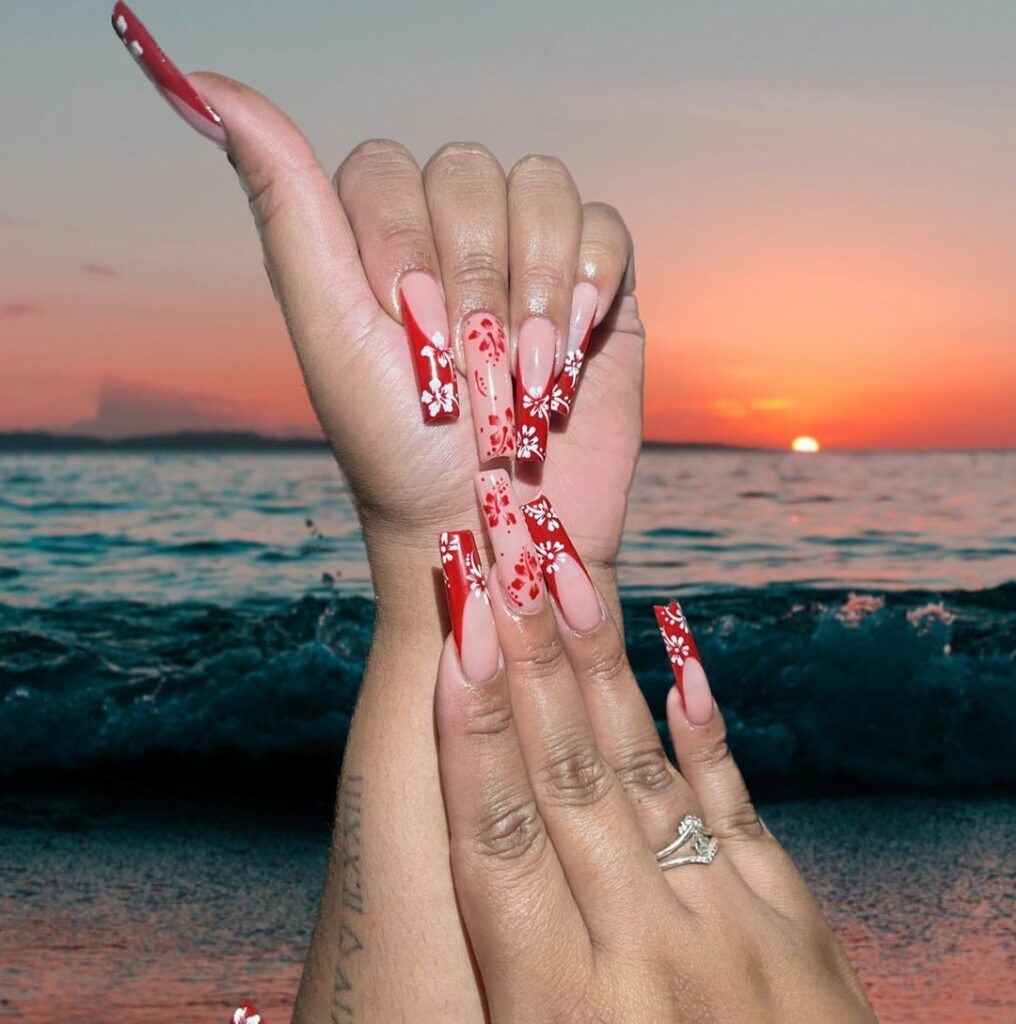 Nude and red blend in well together and will be a very great combination for Hawaii-inspired nails. For this, you might want to go for s log square shoe nail design for the best result when mixing. Some beautiful white designs can be done thereon to give a bold statement.
22. Nude With Swirl Tips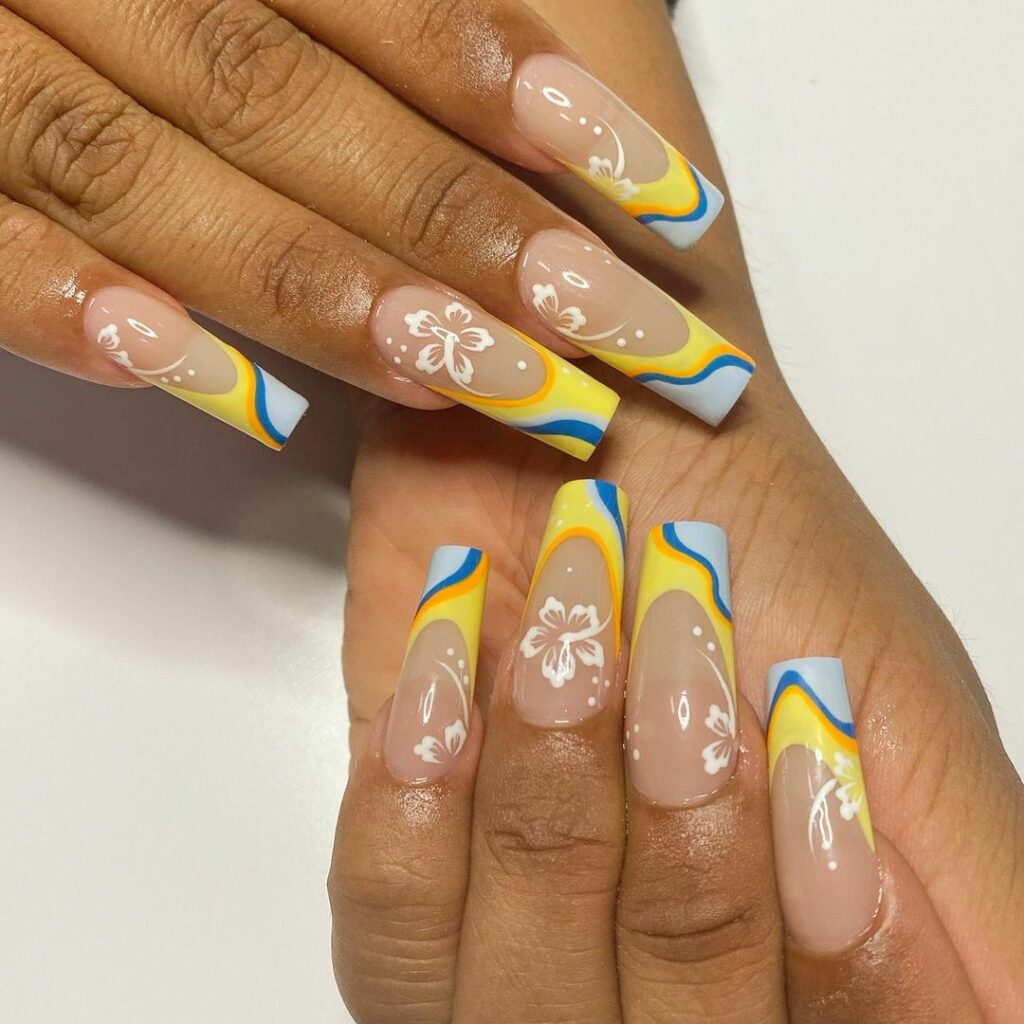 The use of swirls is a very good side to getting fancy nails. Nude goes well with any color you might want to apply, they are an easy blend with high durability and sustainability as well. For a more Hawaii look go all out to fit.
23. Long Colourful Long Nails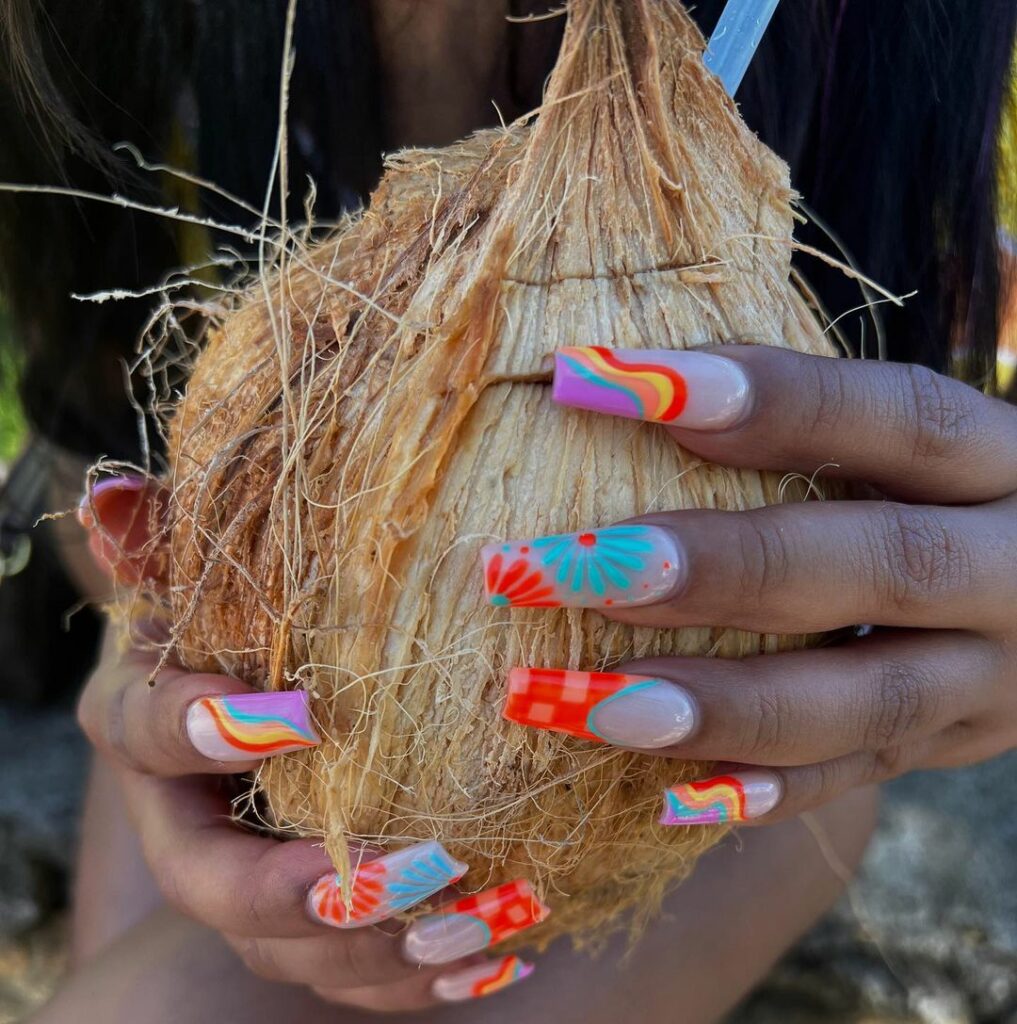 Hawaii is a very colorful country and you can try this out if you like to color. Aloha is a slang constantly used in Hawaii and it will be great to inscribe on your nails. The mix color combo welcomes you to the state of Hawaii as a whole. For this, simply enjoy the mix of color vibe.
Conclusion
Hawaii has so many beautiful things that can be used as inspirations for nails.
Since making use of things around you to get a desirable nail is not such a bad idea. Get your hygiene on the lookout with beautiful nail designs inspired by beautiful Hawaii