Cocktail parties are not just events for regular clothes. You need to look your best. This is a fancy event and requires the best and finest clothing from your closet to be able to flaunt yourself to people in a classy way.
However, this article will show you 30+ cocktail party outfits to flaunt your stardust.
Cocktail dresses are very eloquent they can be regarded as semi-formal occasions often held during the day or evening hours. Trying to strike a balance between a casual and elaborate evening party.
For this type of party, only the best is required from you. A cocktail dress can be of various materials like lace, satin, chiffon, silk, and so on.
Regardless of how large an event is you can always stand out with your clothes. For this occasion, you're in charge of your entire dress look. Although, there are instances whereby a theme for the party might be chosen so ensure you're working with it to fit into the gathering perfectly.
Beautiful Cocktail Dress Styles For Women
Cocktail parties can be held for various purposes all you need to do is to dress as elegantly as possible. You can always be styled by a fashion stylist or a fashion expert as well. We have some top-pick cocktail outfits below that will make you remain in the spotlight with a little bit of embellishment and adornment to bring you out.
1. Off-Shoulder Cocktail Dress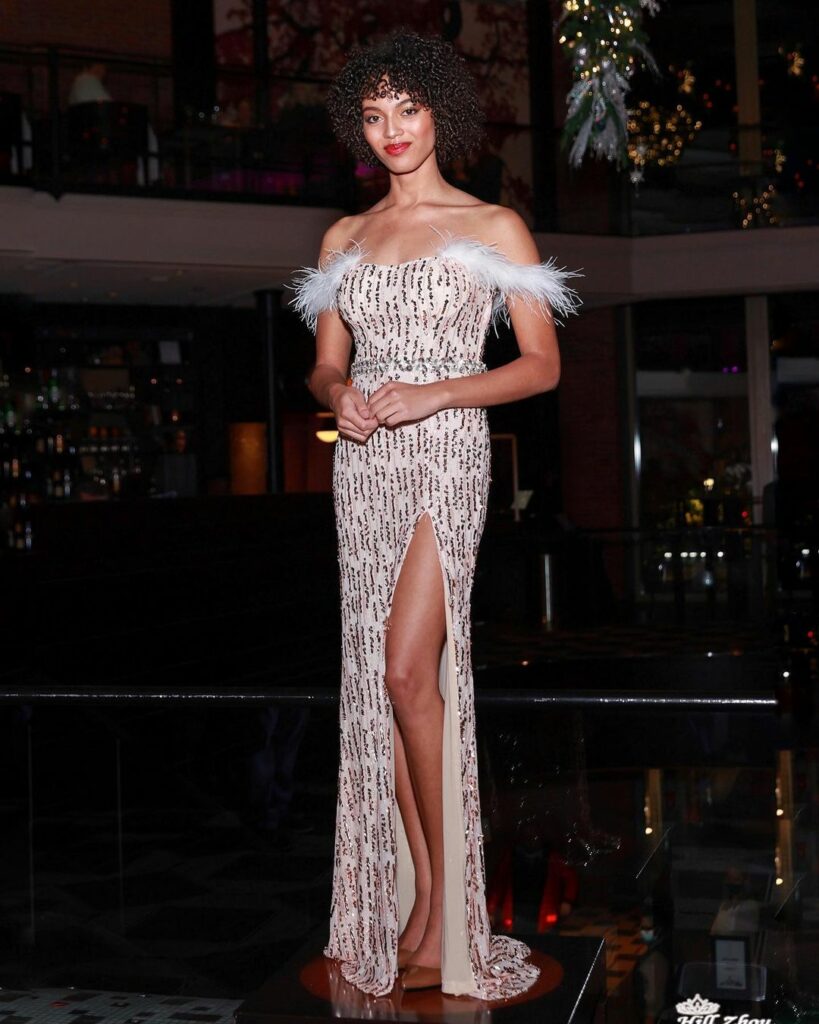 What a look nowadays without showing off a bit of skin here and there. The off-shoulder style helps give a flattering look to the collarbone area and with the jewelry, you're on the right path for your boss look. This dress can be of various lengths like short, long, three-quarter, and so on. If you have beautiful shoulders this is certainly a style to try out.
2. Silk Long Dress Style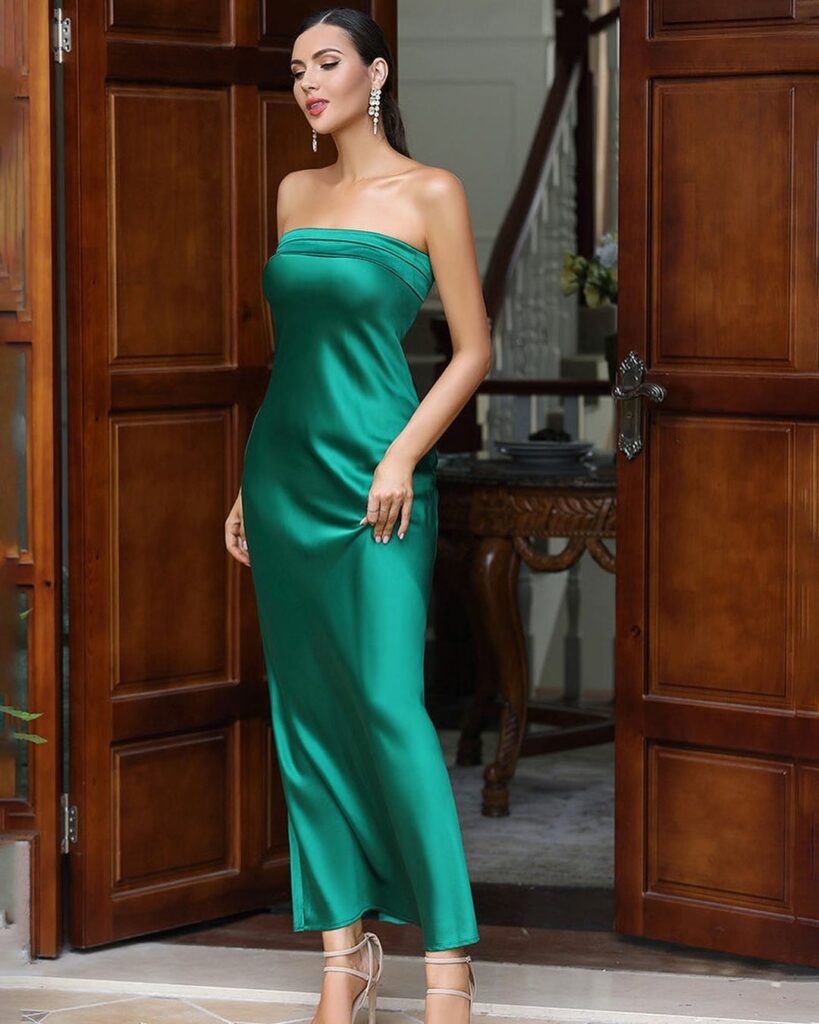 Silk material is very outstanding and also makes the wearing outstanding as well. With this fabric, you're not doing too much even without any form of the necklace a simple piece of jewelry will do the work. The material used is of high-end quality and likewise a very remarkable outfit to consider for your next cocktail event.
3. One Shoulder Jumpsuit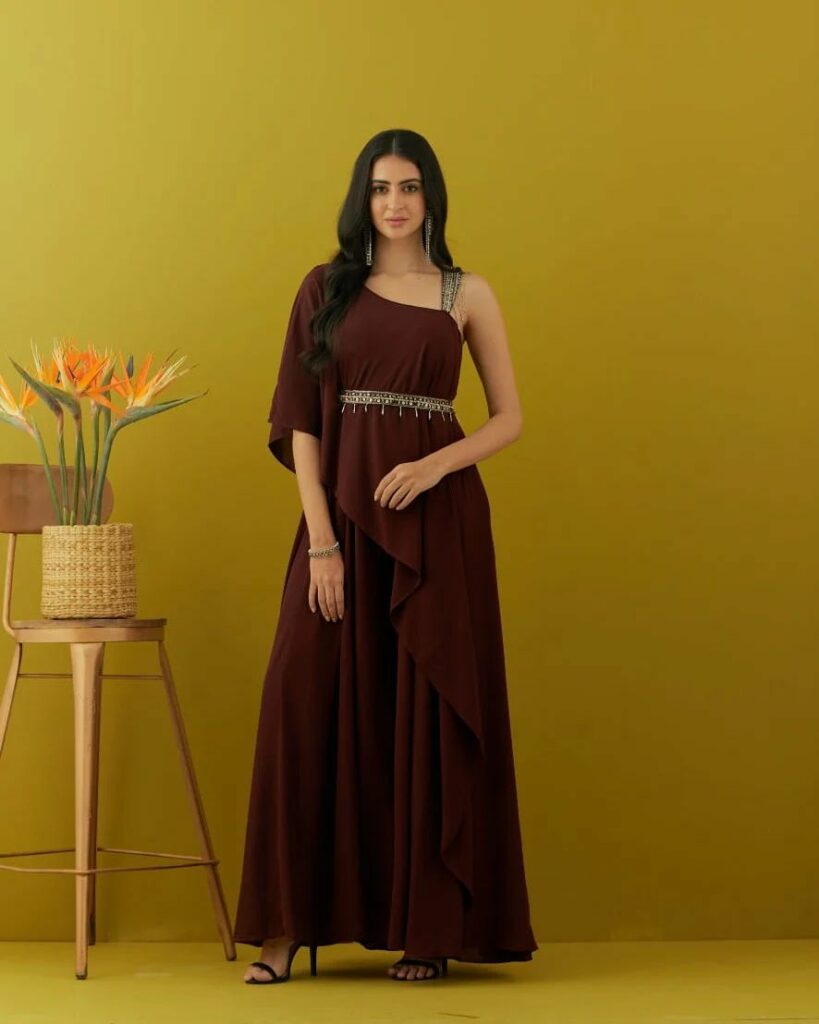 Another cocktail outfit is the jumpsuit with one shoulder neckline for the right attention when needed. For occasions like this, you need to be very comfortable with your clothes by ensuring you explore other necklines of clothes as well.
4. Sequence Long Dress Style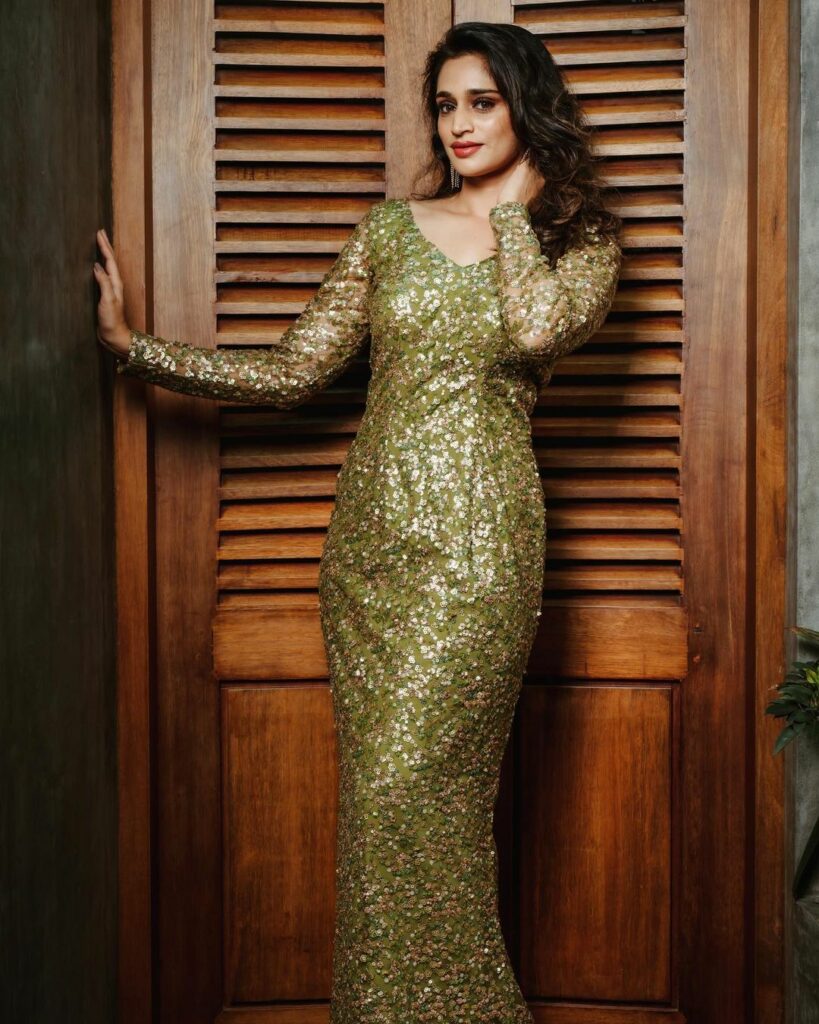 Choose this stunning and vibrant fabric for your next cocktail party. The detailing of every single glitter that makes it an outstanding sequence dress can not be overemphasized on how gorgeous it looks. You'll be noticed from afar when entering a place. Opt for a long-sleeved or slit finish to complete the look you're going for perfectly.
5. Floral Detailed Ball Gown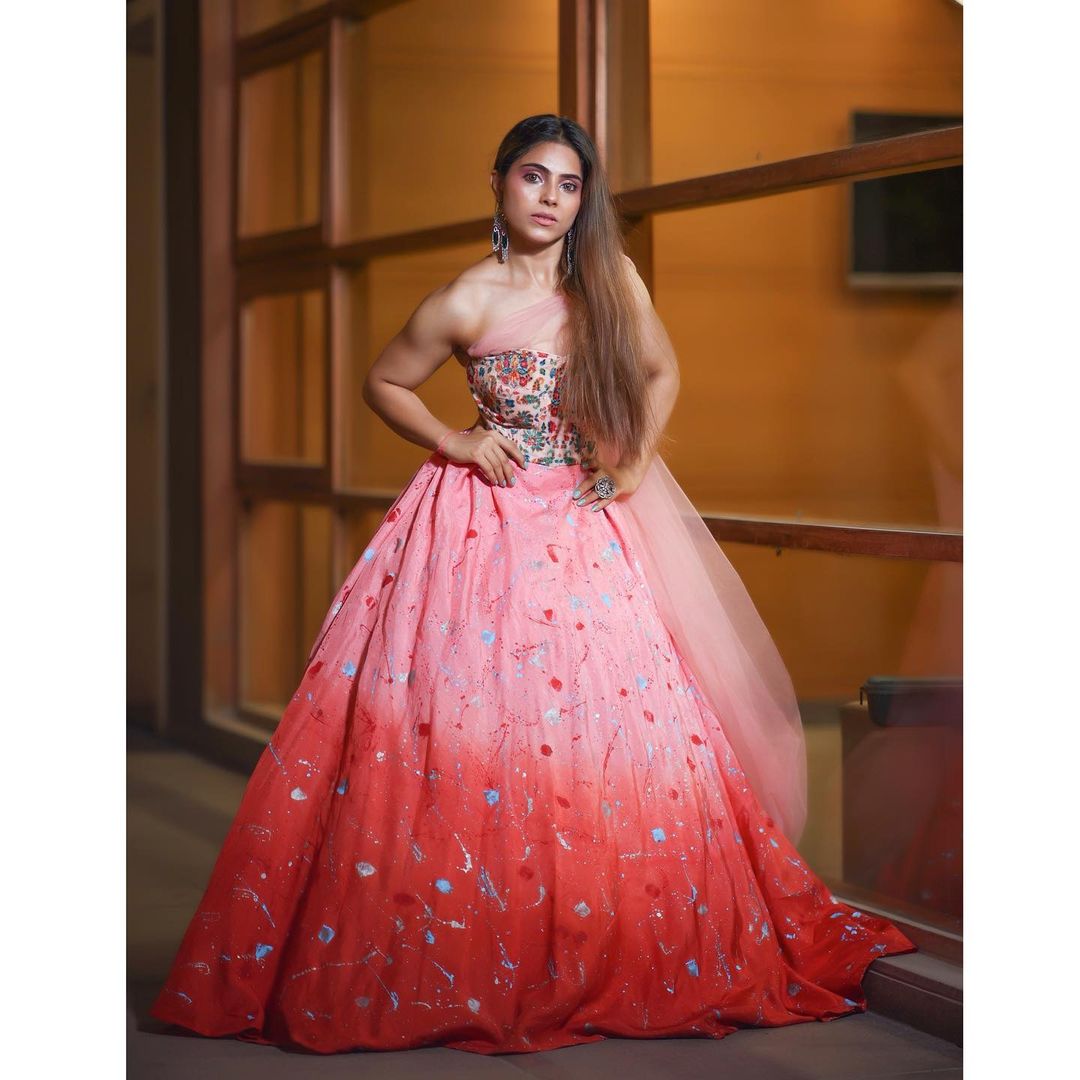 Ball vibes the best way to elevate your clothes is simply going for a well-detailed look. You can make use of any choice of adornments to bring out the cloth more. This gown can be made either strapped or strapless as well. You'll be able to express yourself well with this cloth.
6. Long Grown With Peplum Drape And Layered Sleeves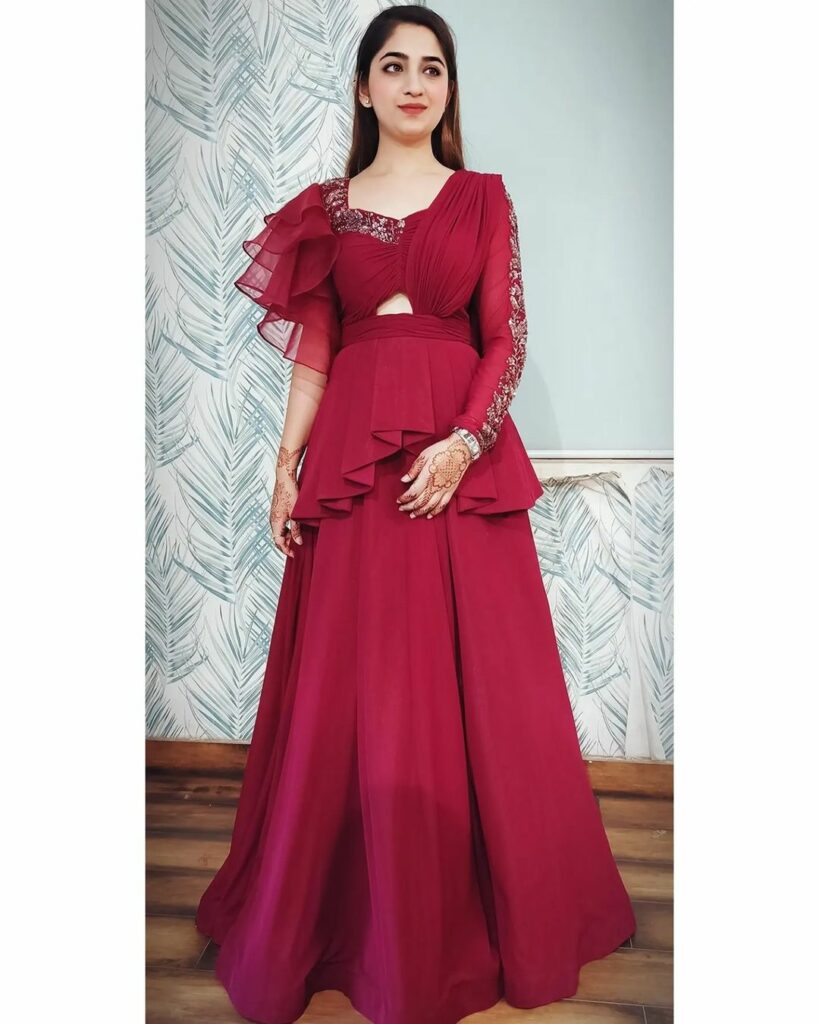 Nowadays, the type of sleeve used has great importance us ensuring the cloth turns out well. Try making use of some dramatic and creative sleeves to help give a defined look to the entire outfit. Invest in your cloth this year to have the most beautiful fashion experience.
7. Black Lace Short Gown
What do we know about lace? It is one of the most worn pieces of material. It can go for any look you want for a cocktail party. It can also be bold if that is what you're going for although, with black lace, you're already gaining that bold look. Pair your gown with accessories of a brighter shade of color when you're not going for a monochrome look like red, yellow, green, etc.
8. High Low Lace Gown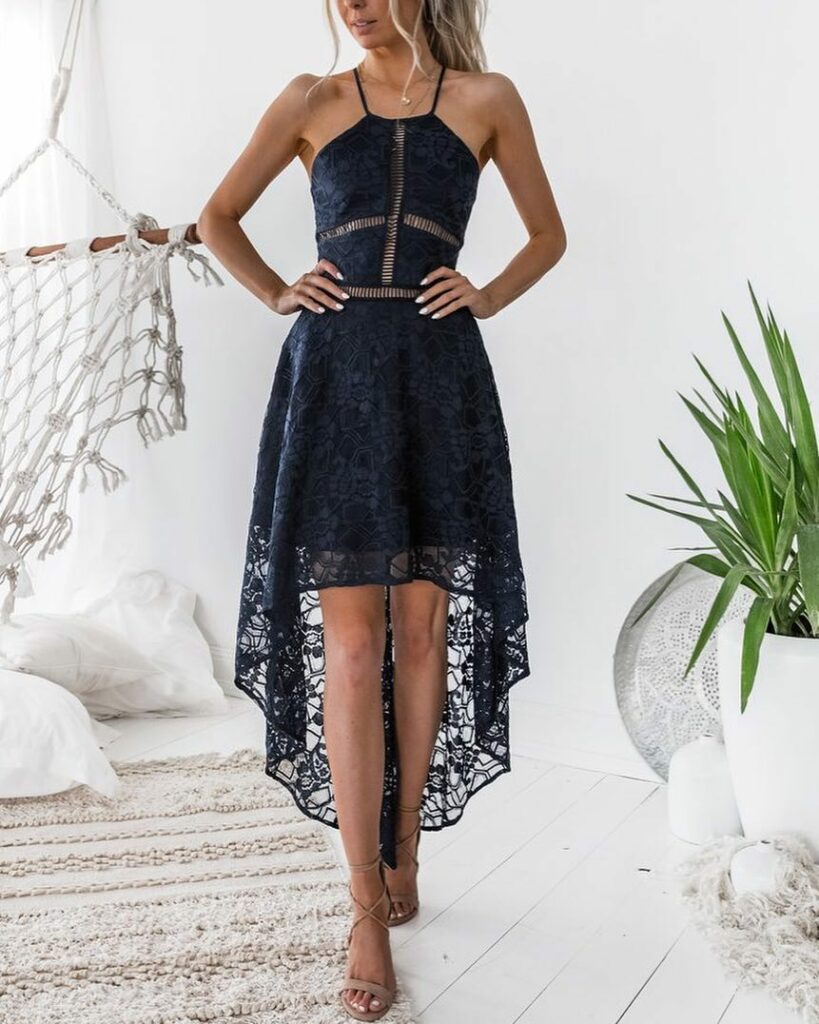 The creative ideas used by fashion designers are top-notch. the concept behind the high-low dress style is unique. As the name implies, it is simply unevenly cutting the outfit making from shorter than the back. you can have it sleeveless simply to not distract attention from the high low.
9. Black Three-Quarter Dress
Sometimes, spice up your dress and go for something more conservative. A three-quarter dress can be worn to replace a short gown. The length is often longer compared to a short dress. A black dress is so the thing you can never go wrong with one thing is, it is cool and fancy. It changes how most people see black dresses as it is statement pieces.
10. Long Gown With Ruffles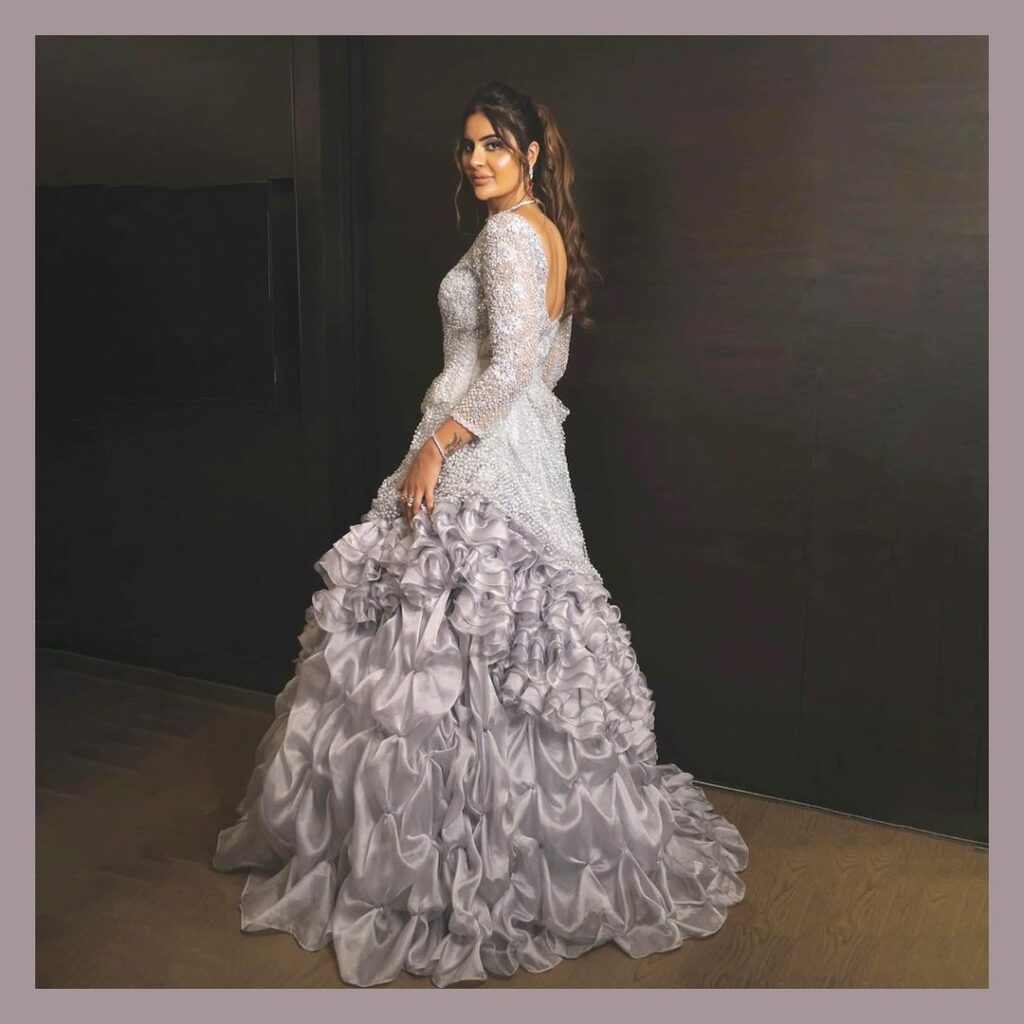 Like drama, then certainly this is what you need. With the detailed ruffle underneath you're going to remain the focus of the night. The silver cloth color of the fabric used is more beautiful than ever. You can go for a comfortable and classy outfit like this for your cocktail.
11. Green High Neck Lace Gown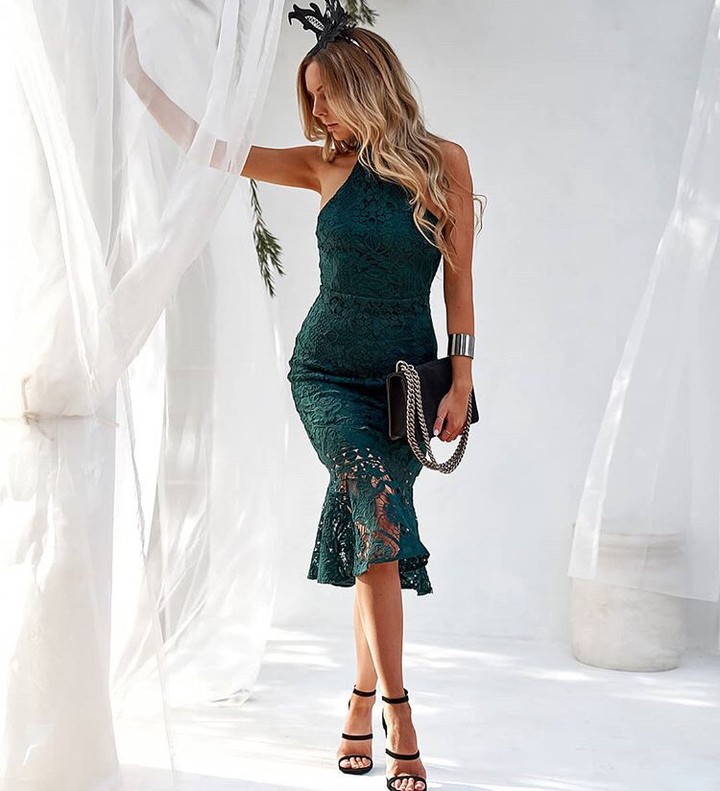 Try to go for a more comforting style of neckline that is different from the regular style. Green is also a fantastic choice of color to wear for a party it can replace your black or white clothes. If classy and sophisticated is the style you're looking for then this will inspire you.
12. Sequin Embellished Tulle Gown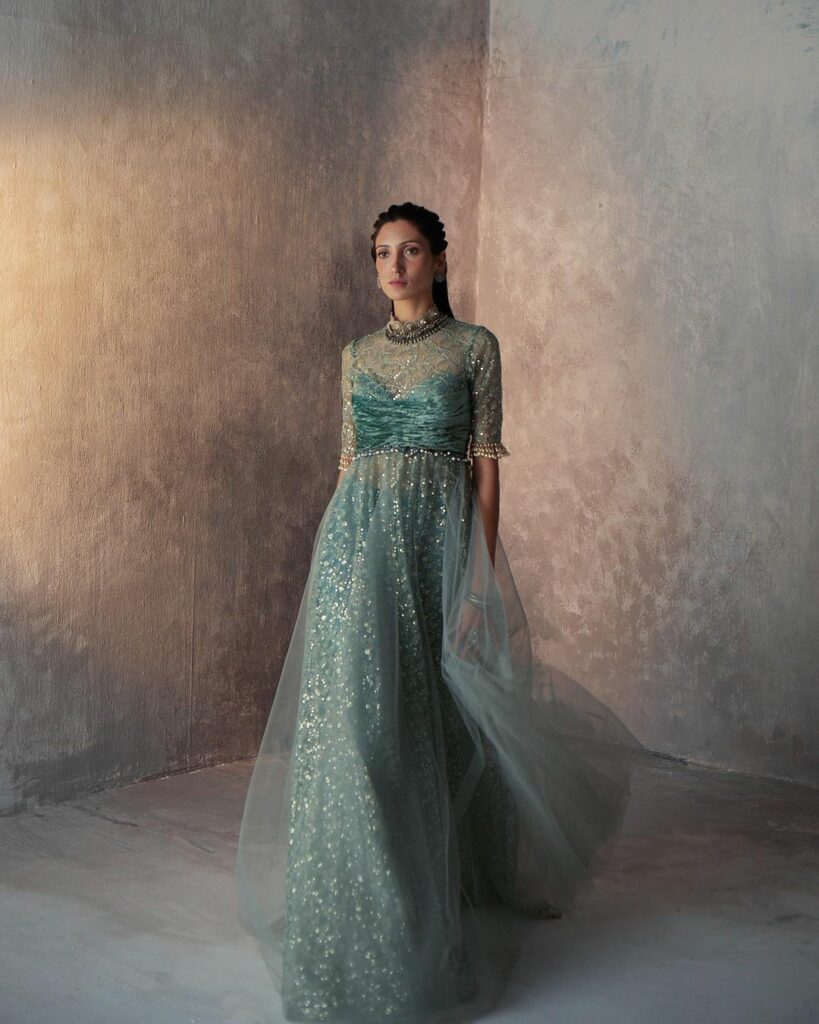 Choose this one-hand puff sleeve at the end with the side drapes which is stylish and elegant. The tulle material is very glamorous and suitable for clothes that need that royal and sexy. This gown is made with embroideries at the blouse and then a tulle material over the sequin beneath.
13. Silk Two-piece Set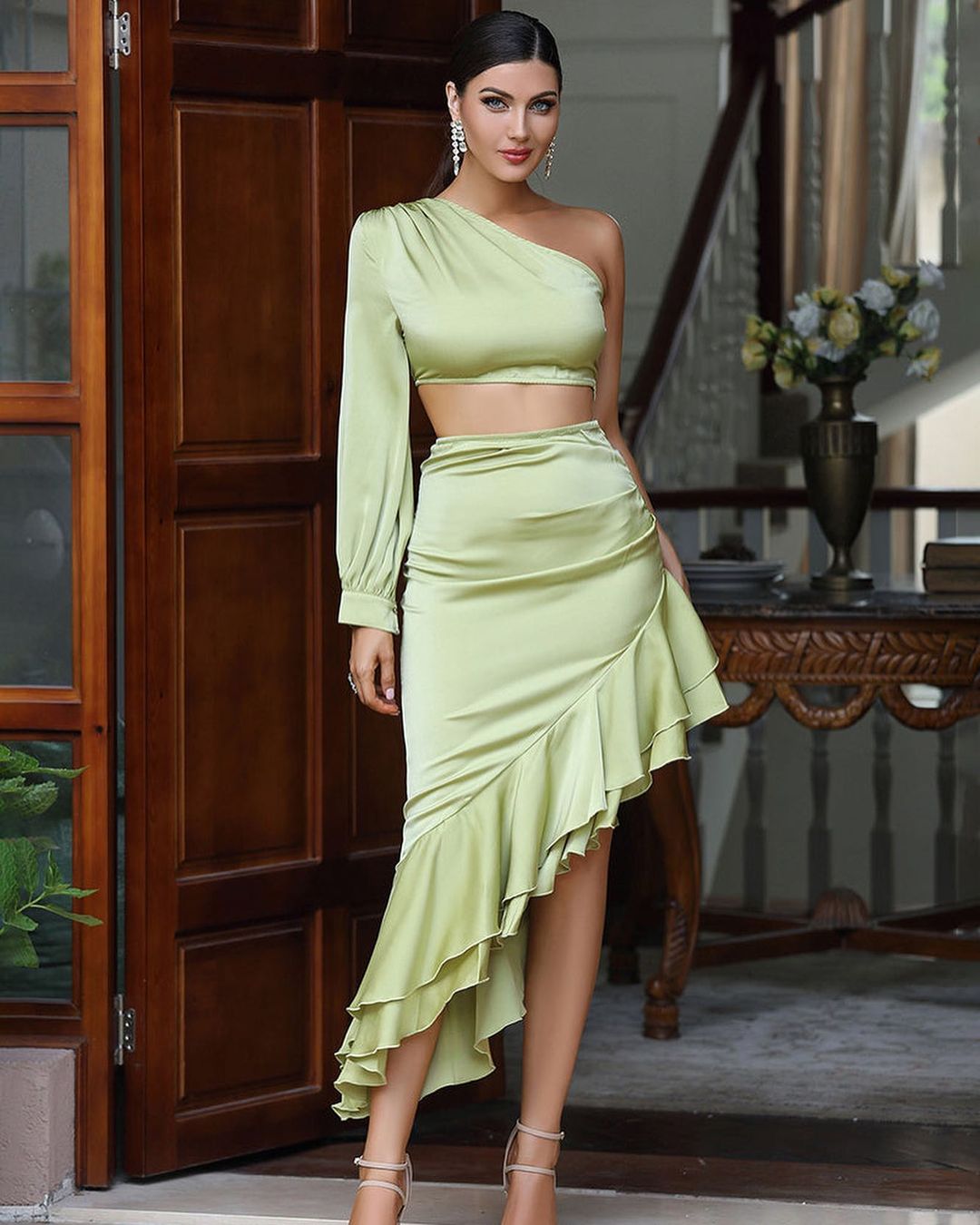 When talking about trending styles in recent years it is a two-piece set this doesn't only come as a blazer set. Try out a silk two=piece with a skirt and crop top to help show off some skin when worn. This dress is worn by fashion-forward women around the world.
14. Black And White Gown With Side Cuts
Try going out of your simple daily look and consider something much different. White and black is a neutral color and suits any skin type. Choose this full-skirt gown style with the side cut and one shoulder sleeve. This color that is chosen is something suitable for a cocktail dress. It shows a slimmer side of your body when put on.
15. Gown With One Hand Cup Sleeve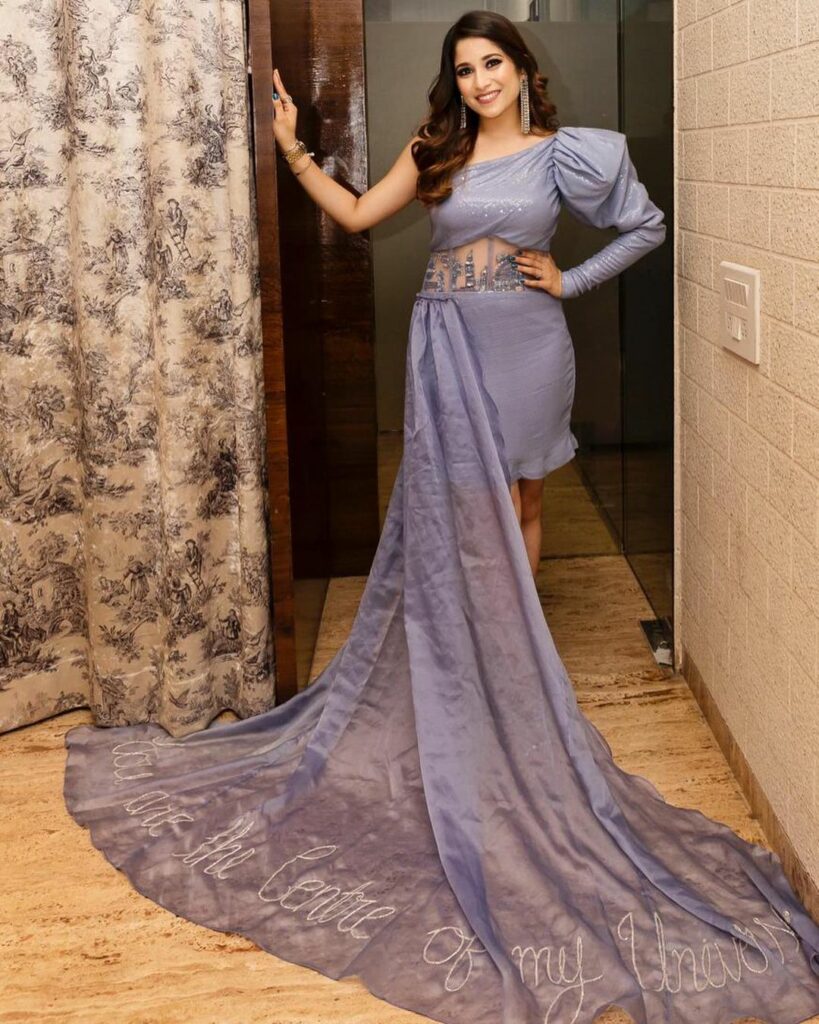 Never get tired of rocking your sequin gown with the use of embellishment your entire attire will remain glittering and shiny always. It has a good way of flattering any person's body or shape it is likewise very suitable for everyone regardless of their shape and status. It is very glamorous that anyone can't help but fall in love with it.
16. Cute Short Gown
Long gowns are not always the cocktail style. Have you tried wearing a short gown to a cocktail event? they are very cute and simple to rock with the right detailing helps elongate the legs and prevent any form of boring look to a cocktail party. With a short dress ensure you go with a makeup look that will bring out your face more.
17. White Lace Gown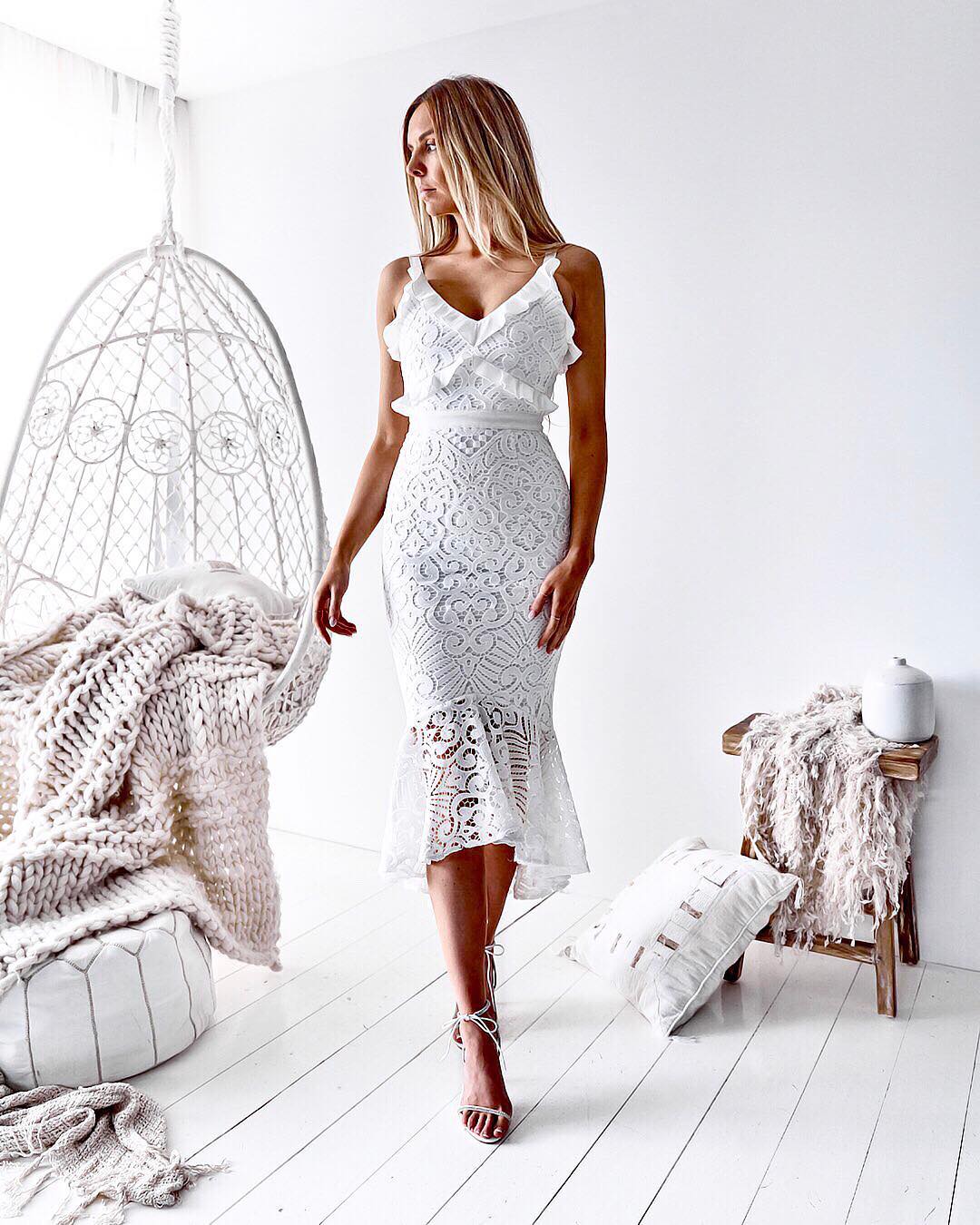 White is a very conservative color however it s very classy and worn by celebrities as well. The beautiful lace design gives it more style. You can go for a short or long lace gown depending on one's choice of outfit. With the spaghetti strap, one will look breathtaking and it can either be dressed up or down.
18. Tube Long Gown With Slits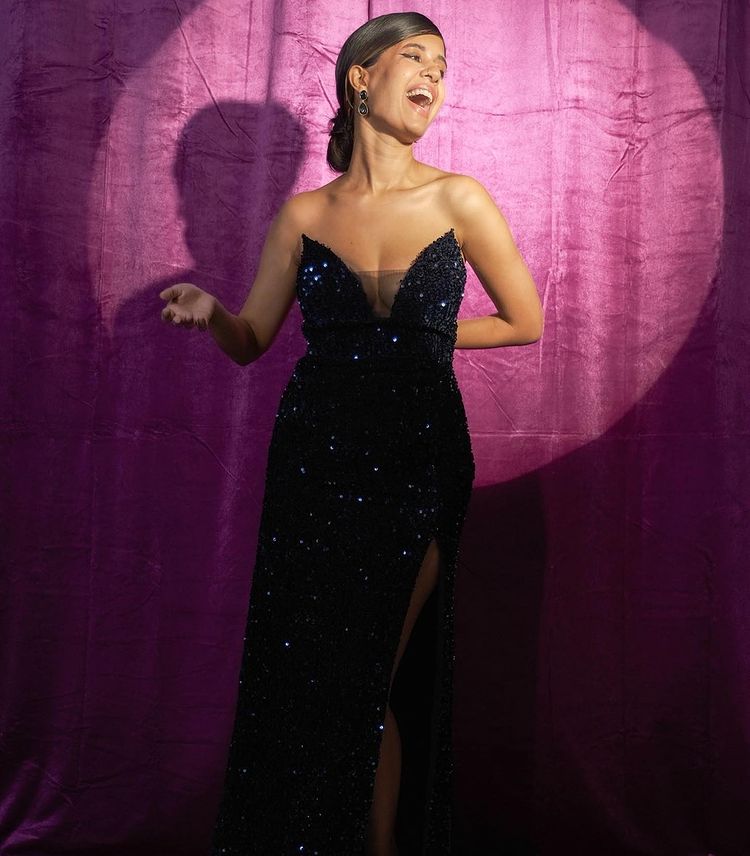 Select a cocktail gown with flowy, slits and deep-cut v-necklines. This is a dreamy and eloquent look for your party look. Adding this style to your fashion collection will ensure you're not looked down on by others. With the use of high-leg slits, you're good to go which is why it is one of the trendiest attire.
19. Velvet Gown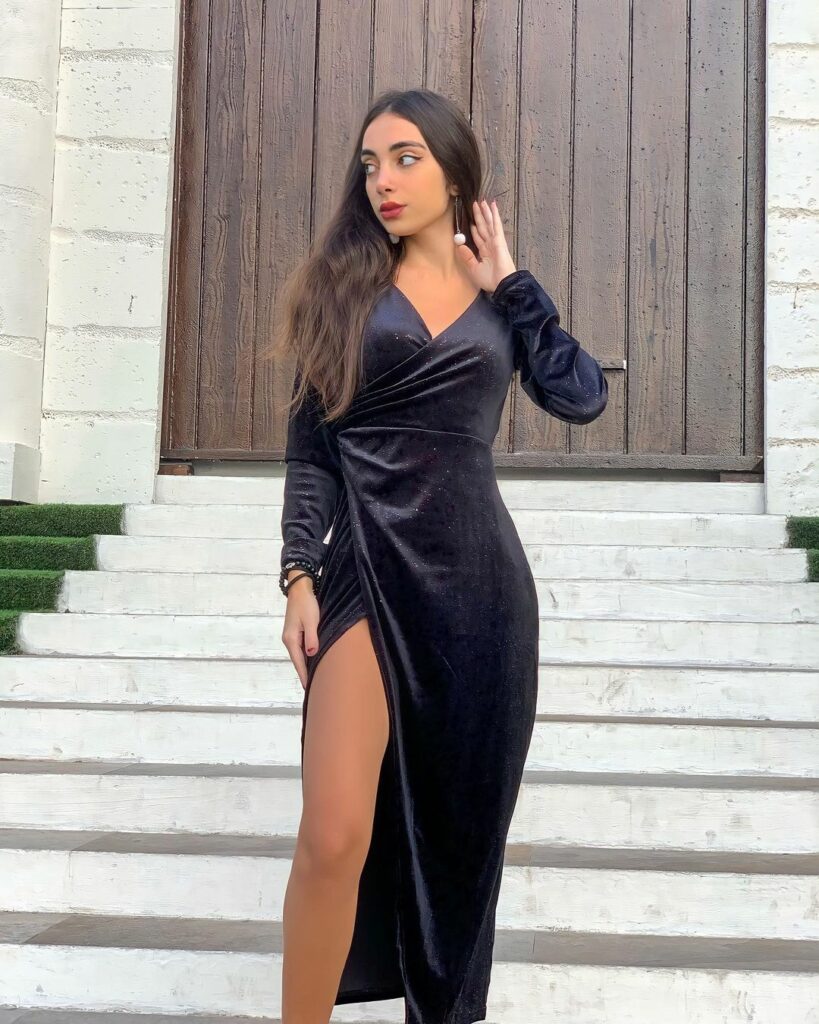 This is a vintage look and it is an expensive material that every lady needs to add to their fashion collections. This velvet gown is made stunning with the use of long sleeves to attract attention. It is not only comfortable with the best quality material but likewise with many ways it can be styled.
20. Deep Cut V Neck Gown
This is the hot pink dress you need to embrace for yourself. Pink is a very cool cocktail color. With the detailed deep-cut neckline, you'll surely stand out. Complete this look with high-heeled shoes also, try doing a monochrome look with your pink dress to give a princess look stylishly.
21. Sparkly Short Dress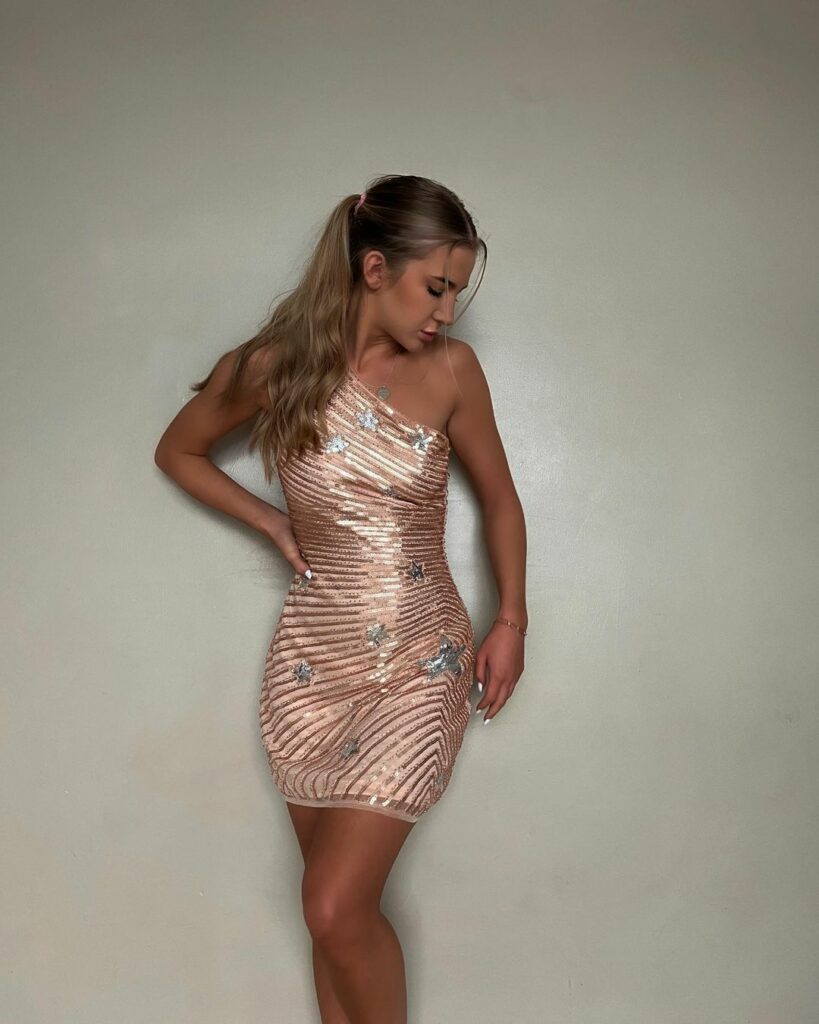 A lot of ladies love their clothes sparkly and this is not something that cant be achieved. The sparkly effect is a must-have to complete your cocktail outfit. If you want to ensure you have a spotlight at the event this is what to go for. The fitted gown style will show off your body shape well.
22. Black Dress With Charmed Strap
The use of fancy adornments with our cloth is always an added addition. Thinking of one simple and yet looking for a spark with your cloth try out this gown. A black dress can never be too much for a cocktail party. Go all out as much as you want when dressing up you should always try to feel happy and gorgeous in yourself when going out.
23. Fringed Short Gown
Place a fringe at the edge of your gown to incorporate that vintage feel into your outfit. With the perfect neckline with cleavages popping out you're a fashion icon. Emerald green is a good choice of color for a cocktail party try out other shades of color aside from black and white.
24. White Asymmetrical Skirt And Top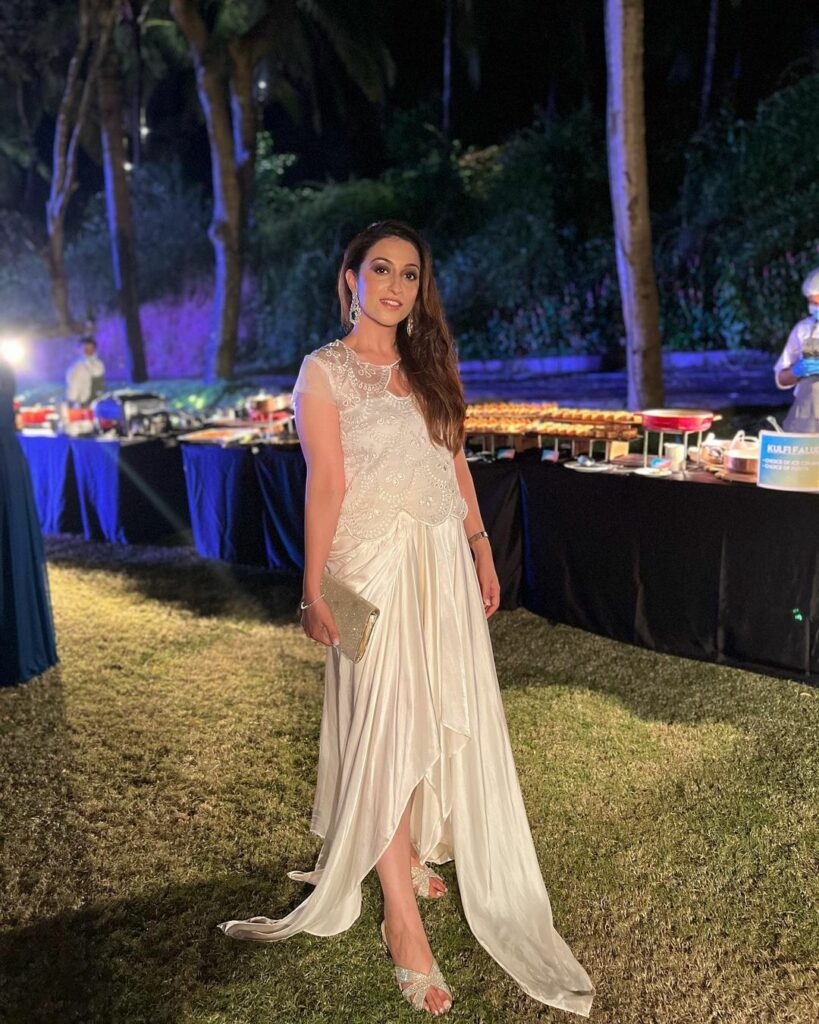 You might wonder if skirts can be worn to a cocktail party then yes. this asymmetric has a high-low effect on your overall appearance. you can add a bit of a gen-z vibe to the cloth with the over-the-top white color. Add a simple clutch and heel to complete the overall style.
25. Turtleneck Full-Length Gown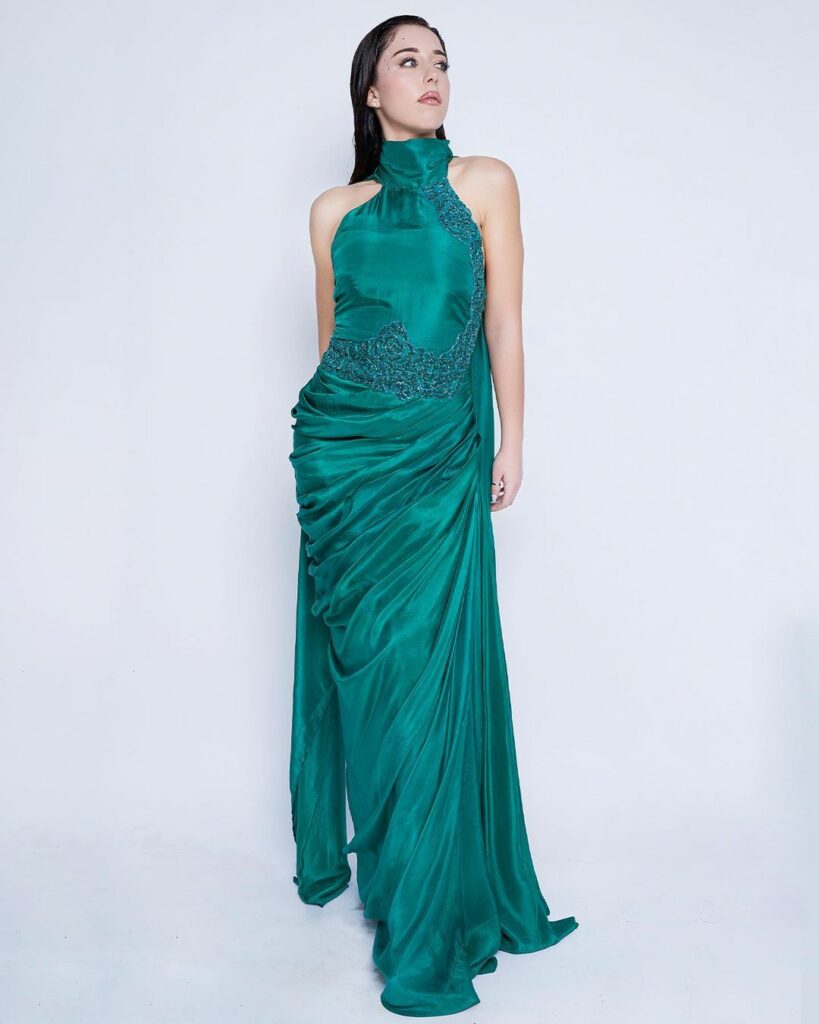 Turtleneck is not a cool style so if you're worried that you'll be outdated with this look then worry less. It is a style that has slowly walked its way into the forefront of fashion style for women nowadays. With a turtleneck, you do not need a neckpiece so as not to divert the attention from the neckline.
26. Low Back Three-Quarter Dress
Low-back dress is not so common amongst older women. This is a flattery style for the back of the dress with a little drape falling off. Usually, you should always keep the front of the cloth simple sandal heel is best with this style and you're gaining that fame for sure. The type of fabric used contributes solely to the outcome as well.
27. Jacket And Draped Pant Set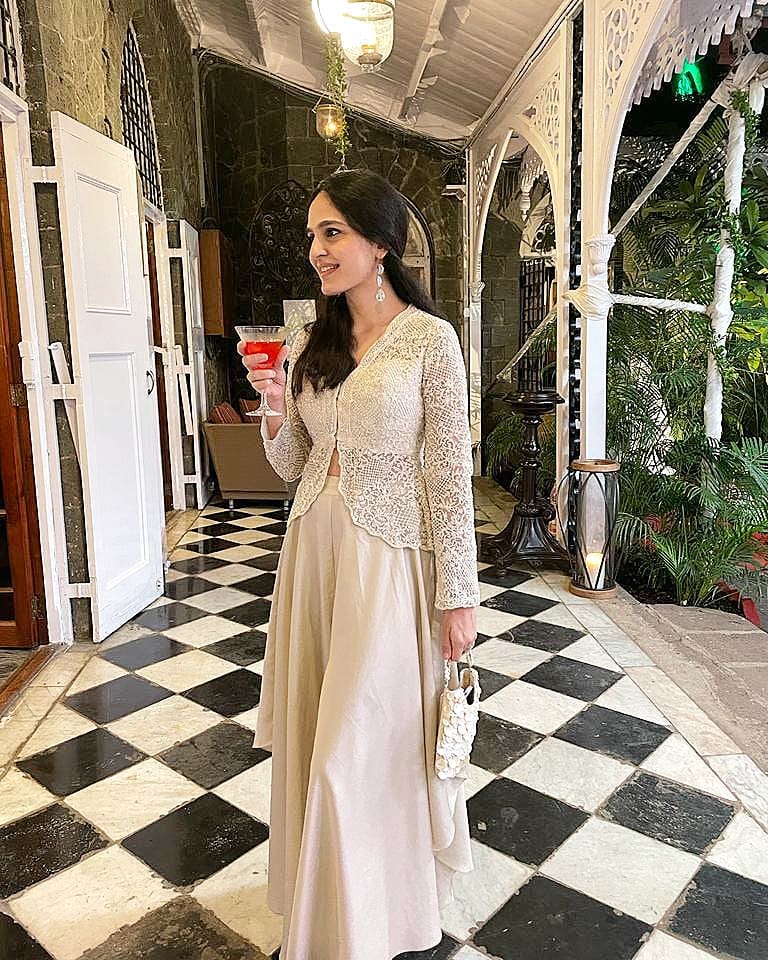 Try out a new look from the constant gown style. This jacket is a simple lace jacket that is very form-fitted. It is only hooked at the center and ensures that you're standing out beautifully. The pants are what sets the style apart from other designs you will see. This look will fit anyone regardless of being slim or plus-size it is worth trying out.
28. Cropped Top And Chiffon Skirt
Crop wears is no basic style it is a very beautiful style for modern women. As shown with the detailed bow effect placed at the center of the top to elongate the chest area. The pleated skirt is also worn along with this to show off the chic aesthetics of dressing up. The nude and light cream color is so stunning and compliments nature.
29. Shift Dress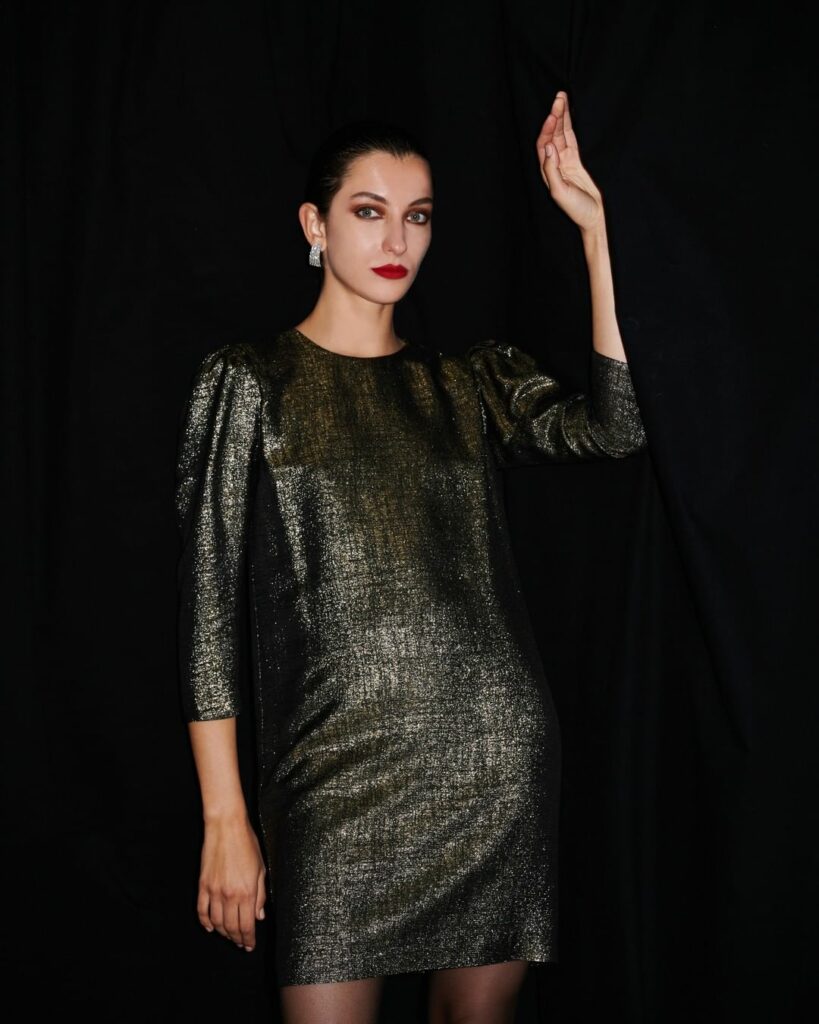 This is a cool choice for a cocktail dress, it is a style that will shake people up as it is something very unexpected. This golden effect shift dress is simple and yet elegant you can use a tummy belt to beautify or simply rock it as it is. Sometimes simple is always more there is no need to go the extreme before making a statement.
30. Mixed Colour Pencil Gown With Bow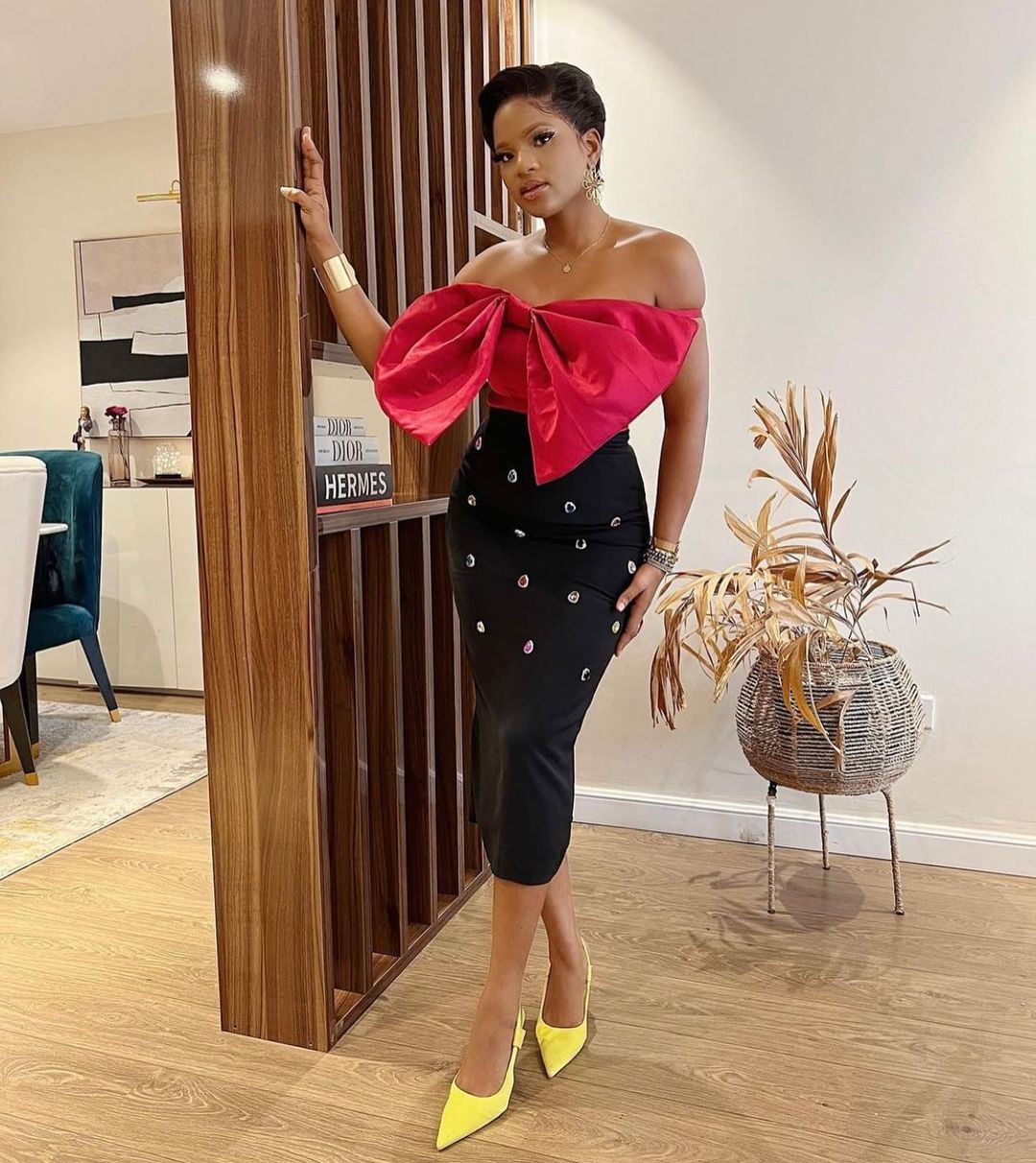 You need to come out with your color combinations. When not trying to do too much, consider a black and pink color as displayed above. The bow at the chest completes the look with the little stoning done at the skirt. When mixing two colors always be careful with your choice so as not to look like a clown instead of a fashion queen.
31. A-Line Slit Dress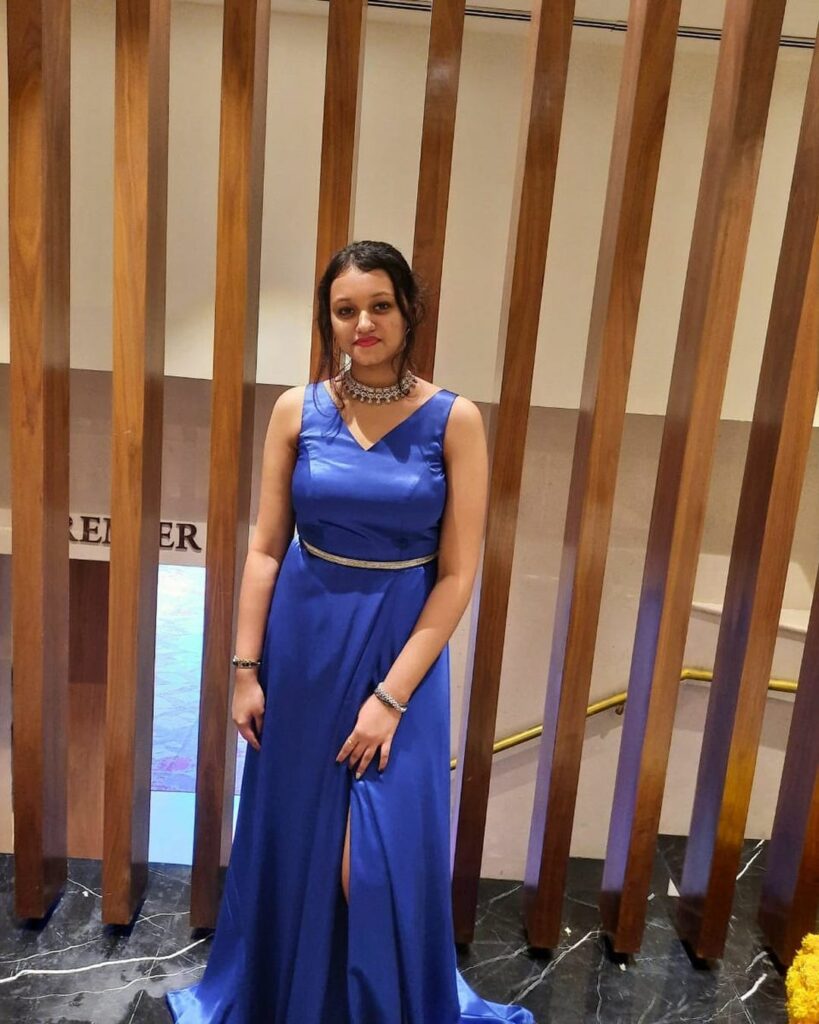 The sexy a-line dress style is for women of all sizes it doesn't make you o fat or too slim but blend in perfectly with your body. The cannon neck is the right choice for this look and not to forget the high slit placed in front. Use this dress for any special occasion and you won't regret your decision.
Conclusion
A cocktail dress requires you to be very comfortable and still look as beautiful as possible drawing the attention of others when you step into a place.
Make use of shimmers glitters, and all adornments to come out as much as you want in your dress. fashion stylists also put in enough effort to ensure creativity is been put into every style. Explore our collection of cocktail styles for your next event.